HR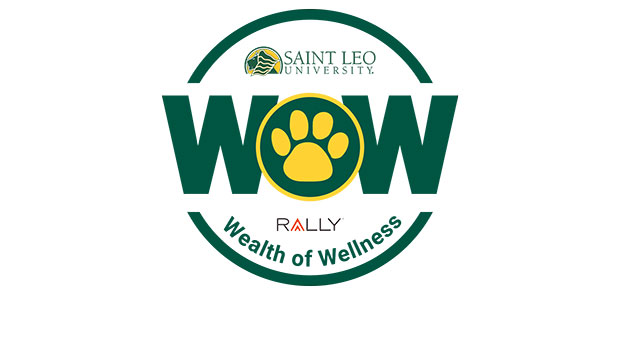 Published on November 26th, 2019 | by University Communications
0
"A Wealth of Wellness," December 2019
The Benefits Department presents "A Wealth of Wellness" for the month of December.
---
Featured Webinar: "Pet Parenting 101," from 3 to 4 p.m. ET (noon to 1 p.m. PT), Tuesday, December 10. Register >>
---
Monthly Awareness: December is AIDS Awareness Month Learn more >>
---
Featured Video: "Assertiveness Communication" Watch the Video >>
---
Health Fair Feedback Survey
Employees who attended one of the October Health Fairs are asked to complete a Health Fair Survey. Feedback from the survey will be used to help plan future Saint Leo University Employee Health Fairs. All survey respondents will be entered into a prize drawing.
---

December Wellness Events: We have more Rally-eligible events for you this month! Events and webinars listed below are worth $10 in Rally "onsite event" credit, unless otherwise noted. Rally events you attend in October should be credited to your Rally portal account by Sunday, December 1. Please note: One Rally incentive per person per event. Attending two sessions of the same event will not result in double Rally rewards.
Complete your Annual Retirement Account Review with Financial Advisor Dan Stamey. Rally points are available for meetings held from September 1, 2019, to February 28, 2020 (Rally credit for one meeting per employee). Schedule a meeting at University Campus >> or call Dan Stamey directly at (813) 269-3362 to set up an appointment.
Webinar: "New Year's Resolutions" from 2 to 3 p.m.ET (11 to noon PT), Thursday, December 19. Learn valuable tips for keeping a balanced life during the holiday season. Register in advance >>
---
403b Increase Campaign Raffle! Extended dates: September 1 to December 31 (Not Rally reward eligible)
All full- and part-time employees enrolled in the 403b retirement plan who increase their plan contribution between September 1 and December 31, 2019, will be entered into a special AIG/Valic raffle to win one of two gift certificates to a cruise line. The two winners will be announced in our Wealth of Wellness for the month of January. View instructions to increase your 403b contribution online via AIG/Valic >> Download the flyer to post in your office or breakroom >> Call Dan Stamey directly at (813) 269-3362 to set up an appointment or schedule a meeting with Dan at University Campus >>
---
Creating a Time Management Plan for 2020.
"So much to do, if I only had time, if I only had time!"
Many people spend a lot of time trying to juggle items on a crowded schedule and feel, at the end of a busy day or week, that they have accomplished little. How much easier life would be if there was a manageable "To Do" list that was easily incorporated it into a time management plan—a plan that people could stick to!
Invest in a day planner or calendar where you can enter details of your schedule, and which will help you remember what you need to do and when you need to do it.
Set aside a certain amount of time each week, or bi-weekly, dedicated to creating a plan for managing your time.
Make a list of activities that you need to tackle and events that you need to attend for the next week or two.
Prioritize these items, knowing that you will be able to adjust their priority as needed.
Delegate some of your daily chores and responsibilities to another person or persons.
Just say "No!" to tasks and events that you deem unimportant or extraneous to the satisfactory completion of your day. Saying "Yes" to others' requests of your time can divert you from your priorities.
Set goals (short-term, intermediate, and long-term) that are realistic and manageable, so that you are not taking on more than you can reasonably handle.
With new year resolutions coming up, now is a good time to review helpful tips on self-improvement >> (Use Resources for Living login information below).
This material provides a general overview of the topic. Particularly in legal and financial areas, you should consult with your personal advisor. Health information is not a substitute for diagnosis or treatment by a therapist, physician or other health care professional. Contact a health care professional with any questions or concerns about specific health care needs. 144.22.702.1-ARFL
For more information, contact Resources for Living
Keep in mind, you have generous resources for behavioral, mental, physical, and daily living health through the Employee Assistance Program (EAP). This is a free benefit provided to you by Saint Leo University through Aetna's Resources for Living. To access EAP services, call (877) 398-5816 and select Option 1 for EAP or visit www.resourcesforliving.com and use username "ICUBA" and password "8773985816". For questions, please contact wellness.benefits@saintleo.edu.