News
Published on November 5th, 2019 | by University Communications
0
"A Wealth of Wellness," November 2019
The Benefits Department presents "A Wealth of Wellness" for the month of November.
---
Featured Webinar: "Building self-esteem in children," from 3 to 4 p.m. ET (noon to 1 p.m. PT), Thursday, November 14. Register >>
---
Monthly Awareness: November is National Family Caregivers Month Learn more >>
---
Featured Video: "Caregiving" Watch the Video >>
---
Tickets to WrestleMania 36: Pre-sale party this Wednesday, November 13
Raymond James Stadium has a special pre-sale offer for tickets to WrestleMania 36 which will take place on Sunday, April 5, 2020. Saint Leo employees can use the code provided to buy tickets 48 hours before they go on sale to the general public. Click here for the passcode and link to buy tickets during the pre-sale.
Kicking off "The Road to WrestleMania 36" is the official WrestleMania 36 Pre-Sale Party, a special event taking place on Wednesday, November 13, from 5:30 to 8 p.m. at Ford Thunder Alley at the Amalie Arena in Tampa, FL. The WrestleMania Pre-Sale Party will feature World Wrestling Entertainment (WWE) Superstar appearances, live in-ring matches featuring NXT® Superstars, merchandise, games ,and an exclusive opportunity for fans to purchase their WrestleMania 36 tickets on-site before they become available to the general public on Friday, November 15, at 10 a.m. through Ticketmaster.
The WrestleMania 36 Pre-Sale Party is a FREE, family-friendly event open to the public! Space is limited, so all guests are required to register online in advance at www.wrestlemaniatampabay.com.
NOTE: This is offer open to employees only and is not open to students.
For more information, contact wellness.benefits@saintleo.edu.
---


November Wellness Events: We have more Rally-eligible events for you this month! Events and webinars listed below are worth $10 in Rally "onsite event" credit, unless otherwise noted. Rally events you attend in October should be credited to your Rally portal account by Sunday, December 1. Please note: One Rally incentive per person per event. Attending two sessions of the same event will not result in double Rally rewards.
Complete your Annual Retirement Account Review with Financial Advisor Dan Stamey. Rally points are available for meetings held from September 1, 2019, to February 28, 2020 (Rally credit for one meeting per employee). Schedule a meeting at University Campus on October 29 >> or call Dan Stamey directly at (813) 269-3362 to set up an appointment.
Webinar: "It's Holiday time already?" from 2 to 3 p.m.ET (11 to noon PT), Thursday, November 21. Learn valuable tips for keeping a balanced life during the holiday season. Register in advance >>
---
October Health and Wellness Fair raffle winners! Three raffle winners were drawn at random from more than 200 participants in this year's Health and Wellness Fairs. Congratulations to the below employees! It's great to be a Lion! Kathy Van Eerden, winner of a Humana health bag! – Main Campus Health Fair Melissa Crist, winner of a Fitbit Alta! – Main Campus Health Fair Rosa Yearwood, winner of a Humana health bag! – Channelside Health Fair
---
403b Increase Campaign Raffle! Extended dates: September 1 to December 31 (Not Rally reward eligible) All full- and part-time employees enrolled in the 403b retirement plan who increase their plan contribution between September 1 and December 31, 2019, will be entered into a special AIG/Valic raffle to win one of two gift certificates to a cruise line. The two winners will be announced in our Wealth of Wellness for the month of January. View instructions to increase your 403b contribution online via AIG/Valic >> Download the flyer to post in your office or breakroom >> Call Dan Stamey directly at (813) 269-3362 to set up an appointment or schedule a meeting with Dan at University Campus >>
---
ICUBAcares Pharmacist Advocate Program: Real pharmacists. Real advocates. Real solutions. Now you can speak with a pharmacist directly and have your personal questions answered over the telephone. ICUBAcares also may reach out to you to provide assistance for a prior authorization from your provider. ICUBAcares Pharmacist Team is ready to:
Serve as a liaison between your doctor, the pharmacy and the insurance company—taking the burden off of you!
Answer questions on a medication you are taking or considering—providing useful information on side effects and drug interactions.
Discuss preferred and non-preferred tier options to save you money.
Call for a free prescription check-up at 1-877-286-3967, Monday through Friday 9 a.m. to 5 p.m. ICUBAcares Rally incentive: If you are a candidate for a qualified medication change, the ICUBAcares team will assist with your transition to a medication less costly to the plan. Rally rewards will be awarded once the change is complete. Call for a prescription check-up to find out more!
---
Start a 30-day Gratitude Challenge for Thanksgiving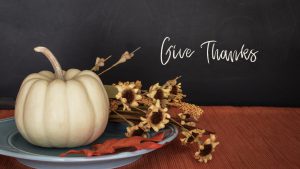 This Thanksgiving month, try practicing gratitude daily for 30 days. You can choose your own acts of gratitude using this list of gratitude ideas, or you can follow this guided gratitude challenge. Show those in your life—and yourself—how much you appreciate them through acts of gratitude and kindness.
---
For More Information, Contact Resources for Living Keep in mind, you have generous resources for behavioral, mental, physical, and daily living health through the Employee Assistance Program (EAP). This is a free benefit provided to you by Saint Leo University through Aetna's Resources for Living. To access EAP services, call (877) 398-5816 and select Option 1 for EAP or visit www.resourcesforliving.com and use username "ICUBA" and password "8773985816". For questions, please contact wellness.benefits@saintleo.edu.