News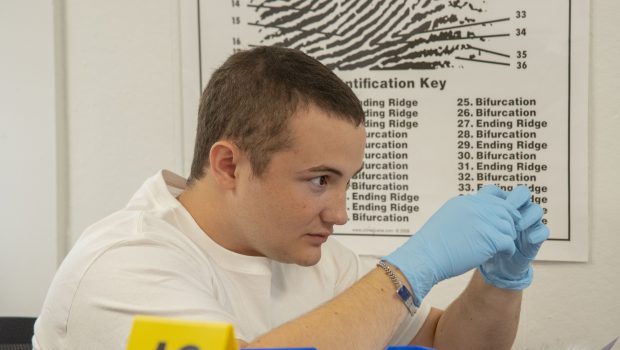 Published on May 11th, 2023 | by University Communications
0
Residential CSI Summer Camp offered June 18 – 24
Scouring a crime scene, dusting for fingerprints, examining "blood" spatter —Saint Leo University is offering rising high-school juniors and seniors the opportunity to delve into the world of CSI—crime scene investigation. Saint Leo will host its popular CSI Summer Camp from June 18 through June 24 at the campus, 33701 County Road 52 (formerly State Road 52), St. Leo, FL 33574.
Faculty and staff are invited to share information about the camp with their families and friends.
Campers will experience hands-on and behind the scenes evidence collection, documentation and preservation as they work a variety of mock crime scenes. They will enjoy residence hall life and join other campers for meals, swimming, movies, and a variety of other evening activities.
The camp is taught by faculty with extensive experience in the criminal justice system with a host of criminalistics experts who will lead on-site demonstrations. Campers also will participate in a field trip to a forensic unit to learn about latent prints and blood spatter, tour an evidence locker, and view a vehicle being processed for evidence by forensic experts.
Space is limited and students are accepted on a first come, first served basis. Total cost for the camp is $2,000, which includes airport transfers, furnished housing, meals, necessary CSI supplies, field trip, evening activities, and souvenirs. A $500 deposit is due at registration. The camp is open to rising high school juniors and seniors age 15 – 18, with parental consent.
Register here.
For more information, contact Nikki Heister at Nikki.heister@saintleo.edu or (352) 588-8487.
Topics covered in this camp contain mature content and students will be expected to participate in the following activities: group work and presentations, walk in a field to view a mock crime scene, use cameras to document evidence, measure distances for plotting evidence, cast footprints, tire treads, etc., climb inside a vehicle, evidence collection in a variety of environments, collecting fingerprints and other outdoor activities in Florida weather. Saint Leo University has a strong commitment to principles of equal access to education. If you need accommodations, please contact the Office of Accessibility Services, Dr. Michael Bailey, assistant director at (352) 588-8845 or michael.bailey02@saintleo.edu.