News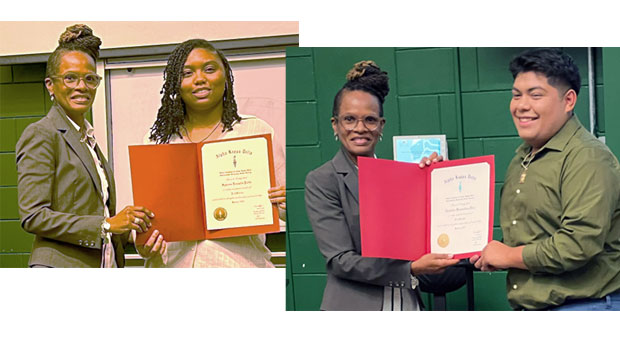 Published on May 12th, 2023 | by University Communications
0
Alpha Kappa Delta inducts five students, hears from nationally known speaker
Recently, five Sociology majors were inducted into Alpha Kappa Delta, the international sociology honor society. The inductees were:
Christian Buenavides-Diaz
Gloria Faye Cooper
Jenise Theresa Fimbel
Ingrid Lorena Karnai
Symone Raquelle Potts
Membership in Alpha Kappa Delta is for a lifetime and has many benefits including funding for student travel and an increase in pay-grade for Civil Service employees.
Sociology faculty member Dr. Janis Prince received an Initiation Speaker Grant from Alpha Kappa Delta which funded a talk by Dr. Michael Armato for the occasion. Armato's talk was entitled "Who's the Man?: Institutional Hierarchies and the Reproduction of Inequality."
A nationally known expert on masculinity, Armato is associate lecturer, sociology undergraduate director, and Social Science program director at the University of Central Florida.
Membership in Alpha Kappa Delta is open to University Campus and Saint Leo WorldWide students and is open several times each year.
Photo captions:
Dr. Janis Prince with Alpha Kappa Delta inductee Symone Raquelle Potts
Dr. Janis Prince with Alpha Kappa Delta inductee Christian Buenavides-Diaz