News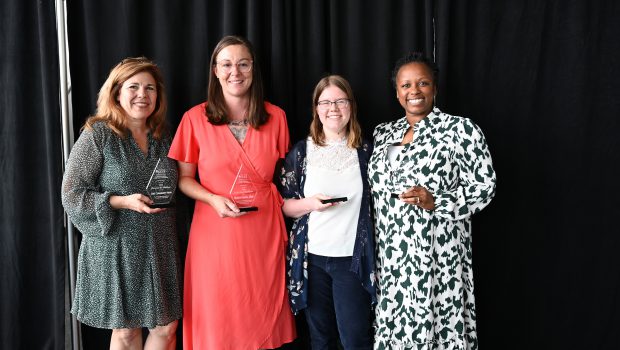 Published on March 9th, 2023 | by University Communications
0
Influential Women of Social Work presents scholarships, awards
Saint Leo University's second Influential Women of Social Work event on March 6 celebrated women who work in the field, community partners that aid those in need, and outstanding students who have chosen a career to serve others and advocate for change to make sure individuals have access to adequate food, housing, and health care.
This year's ceremony was held at the university's Wellness Center at University Campus as well as online via Zoom.
The event was sponsored by Saint Leo University's Department of Undergraduate Social Work and the National Association of Social Workers-Florida (NASW) Nature Coast Chapter and recognized and honored members of the public and the university community who have positively influenced people in need during the past year.
Thanks to the generosity of The Renew Group and its president, Dr. Leven "Chuck" Wilson, six scholarships were awarded during the March 6 event to Saint Leo students pursuing Bachelor of Social Work (BSW) degrees. Receiving scholarships are Magan Martinez, Karen Cummins, Sylvia Chaney, Reese Hathaway, Yvenie Desrosiers, and Brittany Pedraza.
Not only did the NASW-Florida Nature Coast Unit co-sponsor the event, but it also presented some awards. Christina Cazanave, director of internships and BSW instructor, bestowed the honors. She also serves as the legislative chair for the NASW-Florida Chapter.
Those honored included: junior Reese Hathaway was named Social Work Student of the Year; Khalilah Louis-Caines was named the Social Work Educator of the Year; Angie Bonfardino-Walesek received the Public Citizen Honoree Award; One Community Now and founder and executive director Patti Templeton was honored with the Rising to the Challenge Award; and alumna Brandie Grizzel was named the Social Work Trailblazer.
Read more here.
View photos from the event below.