News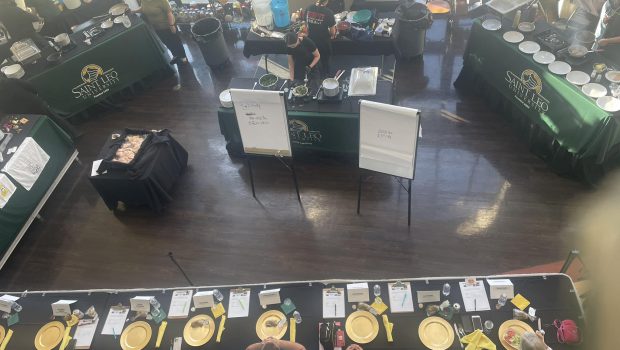 Published on March 10th, 2023 | by University Communications
0
Faculty member Dr. Lionel Thomas, student Kelly Pennington win first place in culinary contest
No one was "chopped," but there were cheers for favorite faculty members and chefs as they competed March 7 in the 10th Annual Battle of the Chefs and Professors held in the Dining Hall at University Campus.
Much like the cooking shows on TV, each team was given the secret ingredient right before the "combat" began. This year's ingredient was chicken.
The teams, featuring faculty from the Tapia College of Business and students, had 60 minutes to visit the pop-up grocery store, come up with a dish, prepare and cook the dish, and plate it on 10 plates in order to dazzle the judges.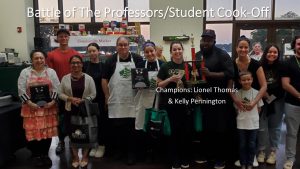 Winning first place was Dr. Lionel Thomas, associate professor of international hospitality management, and student Kelly Pennington.
Taking second were Dr. Michele Flint, associate professor of accounting; Dr. Rita Ray, assistant professor of economics; and student Adam Keselica.
Peter Marian, instructor of management, and students Anhelina Andrusik and Laura Baumgardner placed third.
And the fourth faculty-student team included Dr. Tonya Mazur, assistant professor of management, and students Michael Spiegel and Gabby Fonseca.
In addition to the cooking competition, Dining Services hosted a game, "Can You Guess the Pound and Cost?" Three students volunteered to compete.
They had to guess how much french fries and bacon Dining Services uses in a week and what the cost is weekly for each item.
The answers: 1,100 pounds of french fries a week at a cost of $1,375 and 365 pounds of bacon is used a week at a cost of $1,266.75
The students who participated received $10 gift cards for FUZ, Saint Leo University Fusion Eatery.