News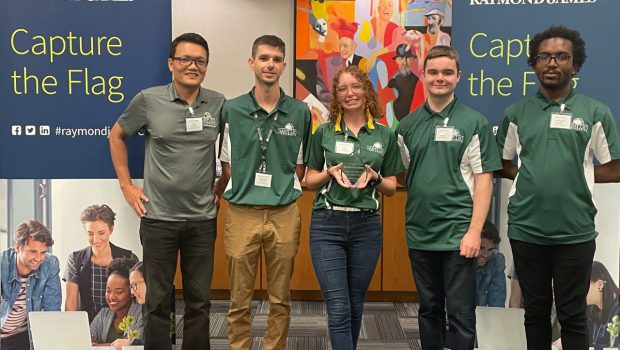 Published on November 17th, 2022 | by University Communications
0
Saint Leo's PenTest Club places 2nd in Raymond James Capture the Flag cybersecurity challenge
The PenTest Club at Saint Leo University on October 22 sent its competitive team consisting of Naomi Nash, Rob Bryan, Evan Frantz, and Jefferson Levasseur to the 2022 Raymond James Capture the Flag cybersecurity challenge. This competition is an annual event hosted by Raymond James Financial Inc., and sponsored by many top-tier technology companies.
Participating in the event were 14 universities and colleges from the state of Florida and beyond: Saint Leo University, University of South Florida, University of Central Florida, St. Petersburg College, Florida State University, University of Charleston, University of Florida, University of Tampa, Florida Institute of Technology, Purdue University, John Hopkins Whiting School of Engineering, British Columbia Institute of Technology, and University of Memphis.
Saint Leo placed second in the six-and-a-half-hour competition known as a Capture the Flag. The competition is based on the idea of "capture-the-flag" in which competitors manipulate a computer system by hacking the system to complete a designated challenge and retrieve, or "capture," a group of text known as the "flag" for that specific challenge.
This year's competition theme was "Watchers of the Wall," in which security professionals who defend systems are always watching their security measures and working to defend their "wall" from outsider threats such as hackers. The theme of performing defensive techniques was new to Saint Leo's PenTest team as members traditionally are focused on practicing offensive measures. However, the team took this theme in stride and spent weeks before the competition preparing for this opposite side of cybersecurity, said Dr. Van Nguyen associate professor and department chair of computer science in the School of School of Computing, Artificial Intelligence, Robotics, and Data Science (CARDS).
The PenTest Club's competitive team members ran into many challenges that gave them the opportunity to put their training from their club meetings to the test, and they learned many techniques they will use in future competitions.