Athletics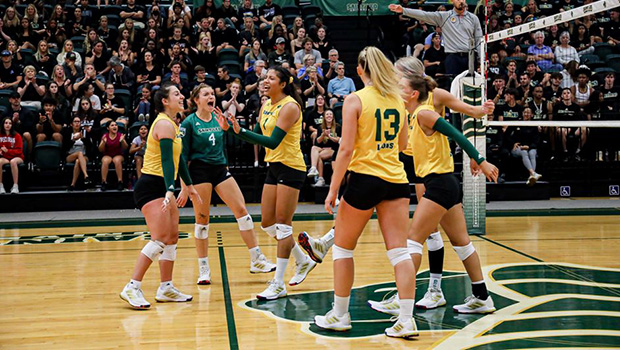 Published on September 12th, 2022 | by University Communications
0
Athletics — Week of September 12
Highlights: Week of September 5
Men's basketball to host skills clinic, 3-on-3 clinic, 3-on-3 league this fall
Boys and girls in fourth- through 12th-grader are invited to participate in the Saint Leo men's basketball skills clinic and 3-on-3 league. This clinic will give campers a chance to learn and practice in skill sessions and 3-on-3 games under the direction of the Saint Leo Men's Basketball program. Read the complete release.
Saint Leo volleyball takes SSC opener with win over
The Saint Leo University volleyball team was in full force Friday night (September 9), as the Lions began its Sunshine State Conference slate with a sweep over the Tars of Rollins College at Marion Bowman Activities Center on the university's Blackout Night. Read the complete release.
Women's soccer survives Sailfish scare for 1st SSC win
The Saint Leo University women's soccer team's attack provided a trio of goals in its Sunshine State Conference season opener, but the Lions managed to hold off a scare from Palm Beach Atlantic in the final minutes to take a 3-2 win over the Sailfish on Saturday night (September 10) at the PBA Soccer/Lacrosse Field. Read the complete release.
UPCOMING EVENTS
Men's soccer vs. Eckerd – 7 p.m., Wednesday, September 14, Freshmen Frenzy. Any student wearing school colors will qualify for the half-time kicking contest. Three lucky students will be selected by ticket drawing to try for the prizes during half-time.
Volleyball vs. Florida Southern – 4 p.m., Saturday, September 17
Men's soccer vs. Warner – 7 p.m., Saturday, September 17
Follow your Lions!
Follow your favorite Saint Leo teams on social media! Visit the Saint Leo Athletics' social stream at www.SaintLeoLions.com, and be sure to follow us on Facebook, Twitter, and Instagram at SaintLeoLions.
Get Saint Leo Athletics scores sent to your phone!
Want score updates sent to your phone? Download the Saint Leo Athletics app in the Google Play Store or the iTunes store and select your favorite teams. You can receive updates on when games start, finish, or even when scores are posted.