News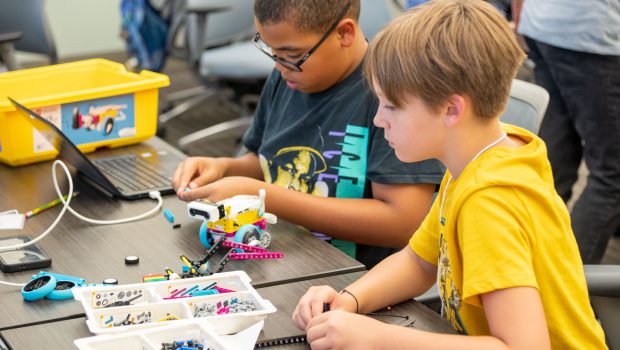 Published on July 22nd, 2022 | by University Communications
0
Robots rock at Saint Leo summer camp as students build, program, grow STEM skills
Saint Leo hosted a successful robotics summer camp June 18-22. Aimed at children 11 and older who are interested in learning about robots and programming, this year's camp attracted 15 students.
Under the direction of Dr. Monika Kiss, mathematics professor in the university's School of Computing, Artificial Intelligence, Robotics, and Data Science (CARDS), the campers used LEGO® Education SPIKE Prime sets, the newest robotics kits by LEGO®, to engage in learning about how robots work and how to code. The students were paired into teams and built robots together using the kits.
Kiss said as a female professor in a STEM (science, technology, engineering, and math) field, she finds the camp a great way to give back to the community and a way to energize young people, spurring their creativity. At the beginning of the camp, the students learn the basics, she said, and "they use their mathematical skills, their science skills to figure out what their robot can and can't do, and their problem-solving skills."
Reanna Collins, a second-grade teacher at West Zephyrhills Elementary, has been working at Saint Leo's summer robotics camps since 2018. She enjoyed focusing on getting girls excited about STEM during the "Girls Can!" Summer Robotics Camp, and the sense of female empowerment it created, she said.
Working with this year's co-ed camp also is enjoyable for Collins. "It's so great for teaching critical thinking," she said. "And working together. They also learn that it takes a lot of patience. Robotics camp is a very creative solution to teaching problem-solving skills. And I learn a lot as well."
View photo gallery below: