News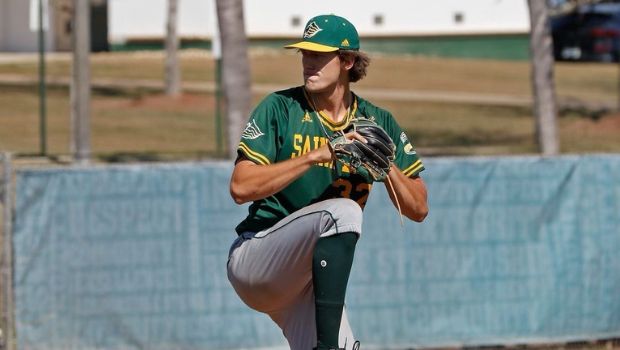 Published on July 22nd, 2022 | by University Communications
0
Lions' Beck drafted by Orioles, potentially tallest MLB player
Jared Beck, a senior and pitcher for the Saint Leo Lions baseball team, was recently drafted by the Baltimore Orioles. The 54th Lion drafted out of Saint Leo University, Beck was selected as the first pick in the 13th round of the 2022 Major League Baseball Draft. While this is exciting news for the Saint Leo Lions, the fact that Beck could be the tallest player in MLB is what landed his story on the front page of ESPN.com. At exactly 7 feet tall, Beck towers over the competition from his spot on the pitching mound and, if he makes it to the majors, he will "pass 6-foot-11 pitchers Sean Hjelle and Jon Rauch as the tallest player in major league history," according to ESPN.
Of course, his talents as a baseball player set him apart, too. While playing for the Saint Leo Lions, Beck struck out 105 batters in over 68 innings, celebrated 36 wins with his team, and his pitches have been recently clocked at 95 MPH.
According to the Lions' press release, head Coach Rick O'Dette stated, "Our program is very proud of Jared and all that he accomplished at Saint Leo. Jared was a big part of our program's success this past season and we are excited for the future of our program because of guys like Jared. He exemplifies what it means to be a Lion, hardworking, relentless competitor, and great person. We are excited about watching him progress through his professional career."
Jared has enjoyed his time playing for the Saint Leo Lions and appreciates playing for a team with heart. "My time at Saint Leo has been a great chapter in my life, and I'm happy I can call it home."
We wish Jared a successful career in MLB!