News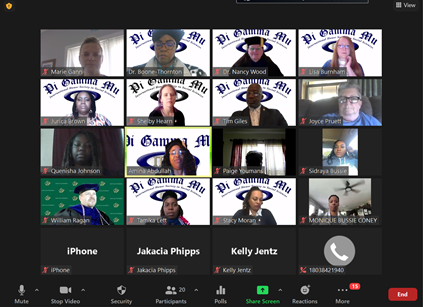 Published on May 10th, 2022 | by University Communications
0
Pi Gamma Mu, international honor society for social sciences, welcomes new student, faculty members
Saint Leo's undergraduate human services program recently held the Pi Gamma Mu International Honor Society for Social Sciences induction ceremony for new members. The mission of Pi Gamma Mu is to encourage and promote excellence in the Social Sciences and to uphold and nurture scholarship, leadership, and service. There were 22 attendees, including faculty, alumni, and students, for the April 23 event.
The event was coordinated by Dr. Michelle Boone-Thornton, associate chair of the Undergraduate Human Services (HUS) Program. The officiating faculty wore academic regalia, signifying the importance of this event.
Dr. Amina Abdullah, HUS department chair provided the opening welcome. The ceremony ritual was performed by HUS faculty and Phi Gamma Mu members, Dr. Tamika Lett, adjunct faculty member; Dr. Nancy Wood, director of the Graduate Human Services Program, Lisa Burnham, assistant director of the Lake City Education Center and adjunct faculty member; and Boone-Thornton. The society's seven ideals were read by PGM alumni and current student-members.
The 2022 inductees included three HUS adjunct faculty members and seven students. After being officially inducted a group virtual photo was taken of this years' inductees and PGM members.
New Pi Gamma Mu inductees are:
HUS Adjunct Faculty Members
Dr. Shaun Johnson, Nicole Ortiz, and Dr. William Ragan
Criminal Justice Student
Marie Gann
HUS Online Students
Quenisha Johnson, Joyce Pruett, and Sherita Redd-McKinley
HUS Savannah Education Center Students
Monique Bussie-Coney and Paige Youmans
To view the ceremony, recorded via Zoom, click here.