Events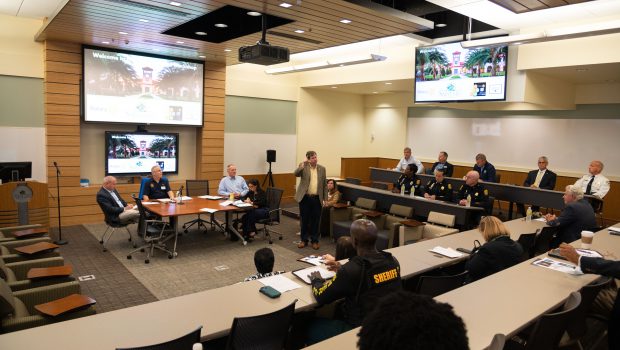 Published on April 7th, 2022 | by University Communications
0
Rotary Club presented Mike and Yvette Flynn "Stop and Think" Project
Saint Leo University recently hosted the Mike and Yvette Flynn "Stop and Think" Project in TECO Hall at University Campus. A Rotary Club peace and conflict resolution workshop, the initiative's mission is to save lives by seeking ways to de-escalate potential conflicts between the police and the public during initial encounters. Those in attendance included Mel Greene Foundation members, Chief of the St. Petersburg Police Department, Chief of the Plant City Police Department, additional representatives from Tampa area police and fire departments, school district officials, Tampa Bay Lightning representatives, and former Tampa Bay Buccaneers player Dexter Jackson.
During the morning workshop, attendees were greeted with opening remarks by Dr. Susan Kinsella, dean of the College of Education and Social Services, and Dr. Mark Gesner, vice president of Community Engagement and Innovation. Dr. Kinsella shared with the group, "This is a good beginning to a solution of building relationships between the police and our youth." She went on to note, "It just goes to show how much we can accomplish when we work together as a community to solve our problems." In addition, attendees heard from Rotarian and retired professor Dr. Eloy Nunez to learn more about the Rotary's peace and conflict resolution area of progress and hear an overview of the "Stop and Think" project. Attendees also worked together in large and small group discussions and enjoyed lunch before concluding the workshop.
See photos from the event here.