News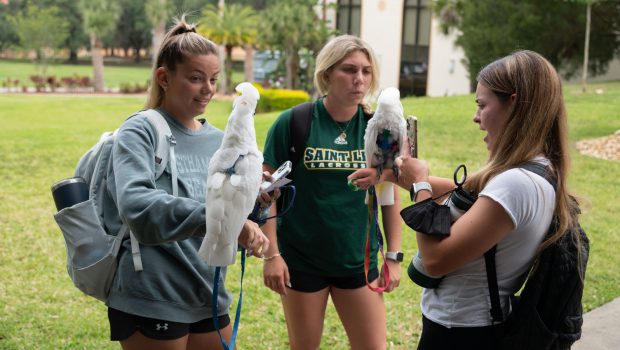 Published on April 22nd, 2022 | by University Communications
0
Furry, feathered friends visit University Campus for Zooeyia
The College of Education and Social Services gave students, faculty, and staff a taste of a future degree program as well as a chance to pet and interact with some furry and feathered creatures on April 18 at its Zooeyia event at University Campus.
Zooeyia (pronounced zoo-AY-uh) is the idea that pets, also known as companion animals, can be good for human health and provide many positive benefits.
On April 18, the community participated in several animal engagement events, which also were a teaser for a new bachelor's degree in animal studies and interventions that will be offered starting Spring Semester 2023. "During an animal studies and interventions degree program, students can expect exposure to course topics such as the history of the human-animal bond, animal assisted therapies, basic knowledge and skills in animal training, and information about careers that employ animal interventions," said Dr. Rhondda Waddell, professor of social work and associate dean of the College of Education and Social Services.
The April 18 event featured: Dog World where everyone could meet K-9 Jango and his human partner Pasco County Sheriff's Office Lt. Clint Cabbage, and Mango, a four-year-old rescue who is a therapy dog and works with the sheriff's office Behavioral Health Intervention Team and Detective Rich Ortiz as well as service, therapy, and agility dogs.
Horse World featured visits with Honey's Mini Horses, while Rachel Quearry walked around with Sunshine, Lady Love, and Colispo encouraging people to pet and hold the cockatoos.
Farm World featured animals (and their student-handlers) from The Academy of the Farm 4-H Club including pigs Princess and Cheeto, four goats, assorted chickens, and a rabbit.
View photos from Zooeyia event below: