News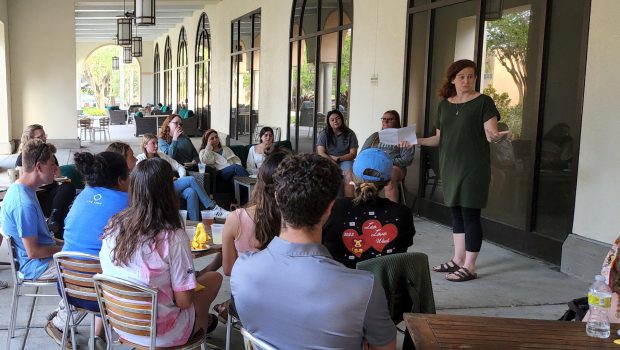 Published on April 22nd, 2022 | by University Communications
0
Final Theology on Tap of year focused on 'How Not to Argue: Connect with Family and Friends with Whom You Disagree'
University Ministry's final Theology on Tap of the academic year focused on engaging in conversations and understanding those with whom you may not agree.
On April 21, students and members of the Saint Leo University community gathered at the Student Activities Building Loggia for the event. After enjoying a pizza dinner, attendees listened to a presentation by Paige Cargioli, who works as a counselor, has taught as an adjunct at Saint Leo, and is married to Dr. Stephen Okey, associate professor in the Department of Philosophy, Religion, and Theology.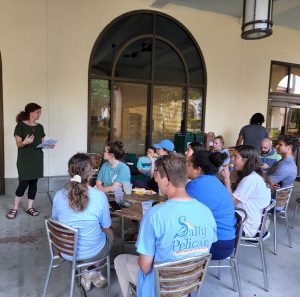 Cargioli spoke on the topic of "How Not to Argue: Connect with Family and Friends with Whom You Disagree" and she helped answer the question, "How can you be in a relationship with someone with whom you disagree?" The answer, Cargioli explained, is to practice civil discourse, which means trying to understand other viewpoints rather than simply argue about which viewpoint is right and attempting to change minds.
Students asked questions following the discussion about how to navigate difficult conversations with family members and roommates, and Cargioli advised active listening and respecting boundaries.
"The way to teach others to engage in civility is by being civil yourself," she said.
University Ministry hosted five Theology on Tap events this academic year. This monthly event is aimed at building community among students while promoting engaging discussions about living out the faith in the everyday life.