Events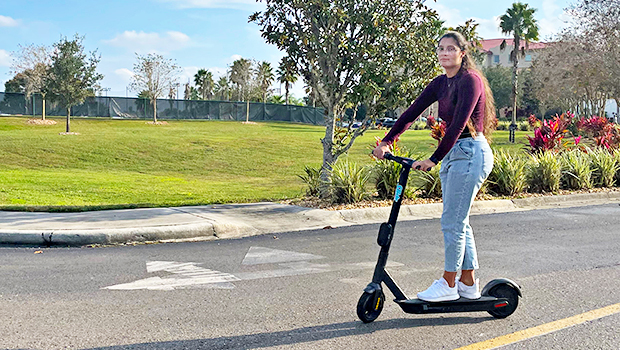 Published on March 10th, 2022 | by University Communications
0
Scooters unveiled at University Campus on March 22
Ready to get scooting? At the request of students, Saint Leo University has partnered with mobility company Slidr to provide access to electronic scooters on University Campus as part of our enhanced transportation initiatives.
The community is invited as Saint Leo unveils its new line of scooters—called Pride Ride—at 1 p.m., Tuesday, March 22, at the Lakeside Patio behind the Dining Hall at the Student Community Center.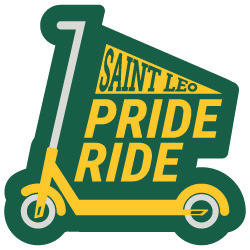 Take a "scoot," enjoy performances by the GoldRush Dance team, and have a snack, including special items from food entrepreneurs from the Pasco Economic Development Council (EDC) SMARTStart program.
Some information about the scooter program: You will be able to scan a QR code and download the Slidr app—riders will need a credit card in order to set up an account. Saint Leo University has paid the $1 unlock fee, and riders will be charged 29 cents per minute for the scooter ride until they turn in the scooter in the official scooter geo-fenced parking area and end the ride through the app. A scooter geo-fence locater map is embedded in the app. Allowable scooter pick-up and drop-off locations are spread throughout campus.
Helmets are STRONGLY encouraged! Helmets may be checked out for free at the Wellness Center, Daniel A. Cannon Memorial Library, University Safety Building, and Student Activities Building, and from Residence Life in Apartment 6.
Scooting is allowed on campus roads and all traffic laws must be obeyed. The only permissible sidewalk to scoot is The Bowl sidewalk. Cell phones may not be in use while scooting. Slidr employees will be on campus daily to charge scooters, perform repairs, and make sure our Pride Rides are in tip-top shape. Happy scooting, Lions!