News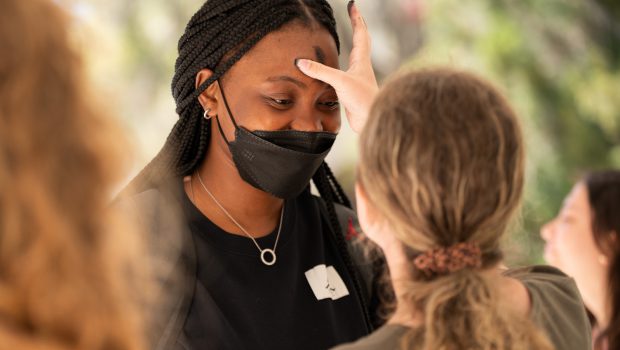 Published on March 2nd, 2022 | by University Communications
0
Saint Leo University begins Lenten season with Ash Wednesday observances
"Repent and believe in the Gospel." Those words were repeated as members of the Saint Leo University community joined with Catholics and many Christians throughout the world on March 2 in receiving ashes in observance of Ash Wednesday. The day marks the beginning of the season of Lent.
University Ministry student-leaders; Father Randall Meissen, university chaplain; and Father Anthony Ujagbo, graduate assistant, distributed blessed ashes outside of the Saint Jude Chapel clock tower at University Campus from 11 a.m. to 2 p.m. University Ministry also passed out cards with information about Lenten observances and events taking place at Saint Leo.
As Pope Francis designated this Ash Wednesday, March 2, as a day of prayer and fasting for peace in Ukraine, University Ministry hosted Mass at 5 p.m. at the Saint Leo Abbey Church, and the celebration was dedicated to praying for peace in Ukraine. Mass concluded with lighting candles and praying the "Peace Prayer of St. Francis."
For student Alora Peters, Lent is a time to "reflect on living my life as a Christian and looking at whether I'm adhering to my faith. It is a time to repent and turn back to God."
Madelyn Eden, who is a member of Saint Leo's indoor volleyball team, said she views the receiving of ashes as a phoenix and being reborn. "I'm receiving something that is a physical mark [of that rebirth in Christ]," said Eden, who is a sophomore and majoring in both business management and accounting.
For sophomore Michael Bogush, Lent is a time of spiritual growth. "It's a time for self-reflection, and what you're doing right and what you're doing wrong," he said.
Receiving ashes on Ash Wednesday, "is a sign to show the Lord's love for me," said sophomore elementary education major Sarah Voisinet. "I've struggled with that and thinking 'Oh, that's something I do at home.' But no, this is good to share with my friends and show my faith."
Photos by Isaac Jeter
View photos from Ash Wednesday 2022: