News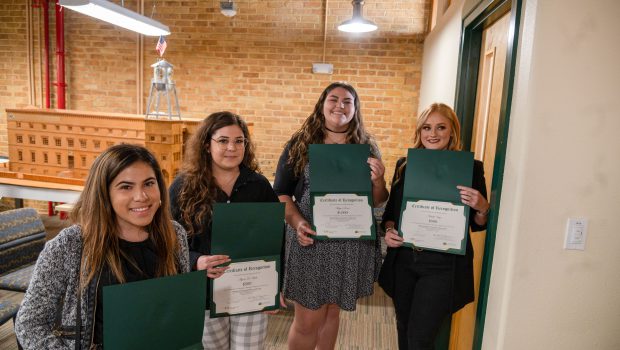 Published on March 11th, 2022 | by University Communications
0
Saint Leo honors 'Influential Women of Social Work,' presents 4 scholarships
In celebration of Women's History Month and Social Work Month, Saint Leo recognized the contributions of women in social work at an event at the Tampa Education Center and online via Zoom. Influential Women of Social Work, held on International Women's Day (March 8), celebrated the women (and men) who study and join this helping profession.
Not only was it a celebration of those who give back to their communities, but it also was a time to create new legacies in social work as four Saint Leo University students received scholarships from Leven "Chuck" Wilson, president and CEO of The Renew Group. The event also recognized those who are making contributions in the field as awards were presented by the National Association of Social Workers (NASW) Nature Coast Unit.
Wilson donated and created four scholarships for undergraduate social work students. Receiving BSW scholarships to be used for the Fall 2022 Semester are: Natalie Vega, a junior at the Tampa Education Center, received at $500 scholarship; Anne Chaves, a sophomore studying at University Campus, the university's residential campus, received a $500 scholarship; Alyssa D'Aiello, a junior who is in the blended program taking evening and weekend classes at University Campus, received a $500 scholarship; and Megan Rowe, a junior who studies at University Campus, earned the $1,000 scholarship.
One of the sponsors of the Saint Leo event, the National Association of Social Workers (NASW) Florida Chapter – Nature Coast, presented awards to outstanding practitioners, students, community members, and educators. Christina Cazanave, director of field placement for the BSW program and who chairs the Nature Coast unit, presented the awards:
Social Worker of the Year – Sarah Shirina, supervisor of BayCare Behavioral Health's Mobile Response Team in Hernando and Pasco counties.
Social Work Student of the Year – Brendan Bernsley, a junior in the BSW program, who has a 3.979 GPA.
Public Citizen of the Year – Maria Santos, a social worker since 2017, she is working in Saint Leo's Office of Accessibility Services, making higher education accessible for students across the university.
Rising to the Challenge – Feeding Tampa Bay, a nonprofit organization that is leading the charge in combating hunger in the Tampa area and supplying critical food needs throughout the COVID-19 pandemic.
Social Work Educator of the Year – Christina Cazanave. Dr. Ebony Perez, chair of the BSW program, surprised Cazanave with the honor for her tireless work with Saint Leo's students and generating field placement opportunities.
Read more here.
View photos from the event: