News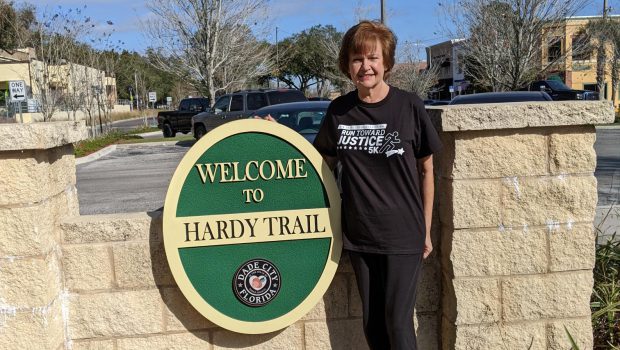 Published on January 20th, 2022 | by University Communications
0
Successful Run Toward Justice 5K raises funds for migrant students
Saint Leo University's Social Justice Committee hosted its first Saint Leo Run Toward Justice 5K on Martin Luther King Jr. Day (January 17), with the goal of benefitting local organizations that promote social justice initiatives throughout the community. This year, the proceeds from registration fees went to the Migrant Education Program (MEP), which provides services to migrant students and their families through Hillsborough County Public Schools.
Because of COVID-19 safety protocols, the event was virtual this year, but the Social Justice Committee hopes to make this an annual event. In addition, the Social Justice Committee held a supply drive in the fall to benefit the Migrant Education Program. School and cleaning supplies and personal care items were collected at the university to be donated to the MEP.
Participants were able to complete the 5K any day between January 1, and January 21, 2022, and they could run, walk, or use any mobility assistance device to complete 3.1 miles. The first Saint Leo Run Toward Justice 5K had 80 participants and raised $2,480 for the MEP. Migrant families travel extensively throughout the United States to harvest fruits and vegetables. They provide the food to feed the nation despite hardships of their own. Challenges that the MEP helps mitigate are academic, health, social, parent engagement, and family literacy.
"We are very excited to be able to support the Migrant Education Program with a monetary donation as well as all the supplies we collected during November and December," said Heather Johnson, assistant director of program approval for the College of Education & Social Services, who also was one of the event organizers. "The Saint Leo community stepped up to support migrant children and their families, who are essentials workers in our community."
Saint Leo's Social Justice Committee is comprised of students, faculty, and staff who are working to explore issues of racism and move the university forward with honest conversations and initiatives. The committee's explicit commitment was—and continues to be—to work together to eliminate inequities in university practices, policies, and curriculum. Find out more here.
Dr. Ebony Perez, chair of the Social Justice Committee, praised the efforts of Saint Leo and members of the public who joined in the 5K.
"I think this is an excellent example of how the Saint Leo community is invested in cultivating community in our part of the world," Perez said. "We had staff, faculty, and students, as well as administrators, come together to go beyond performativity, and engage in action. There is no magic bullet to combatting social inequity, and it is our belief that the seemingly small actions we do will have a butterfly effect. Just as the body of Christ is made up of many different talents, so is our Saint Leo family. Heather [Johnson], Georgina [Rivera-Singletary}, Jenifer [McGrew], and Diane [Bynum] linked their talents and time and put together this amazing event. I am honored to work alongside them."
View the slideshow below of some of the participants in Saint Leo University's 2022 Run Toward Justice 5K.