News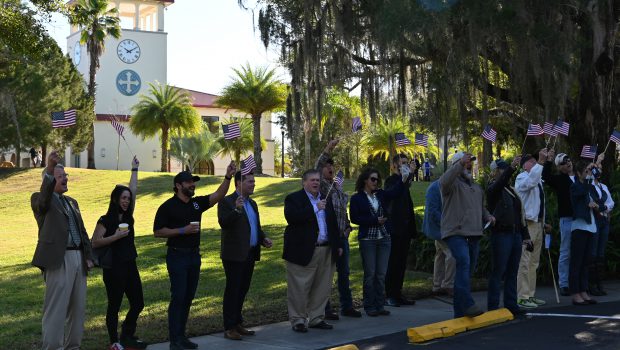 Published on January 14th, 2022 | by University Communications
0
Saint Leo welcomes Homes For Our Troops recipient
Saint Leo was proud to host the kickoff event on Saturday, January 8, at University Campus for Homes For Our Troops (HFOT). This nonprofit organization is dedicated to "building houses and rebuilding lives" for the country's severely injured post-9/11 veterans.
HFOT builds single-level homes that are equipped with more than 40 special adaptations to assist injured veterans. These include widened doorways, lowered countertops, roll-under cooktops and sinks, and roll-in showers, all designed for wheelchair accessibility. The organization builds homes and provides assistance after delivery of the home to help rebuild the person's life.
The organization is building a home in San Antonio, FL, across Lake Jovita from University Campus, for Michael Monthervil, a retired U.S. Army specialist who was wounded in 2014 in a training exercise while deployed in Afghanistan. He fell on his neck injuring his spinal cord, which resulted in the loss of the use of his legs.
Monthervil was escorted on campus by a motorcade of first responders and veterans, and they were greeted by Saint Leo President Jeffrey Senese, members of the Saint Leo community, veterans, HFOT members and volunteers, and others who waved American flags to welcome this injured hero. Hear his story here.
During the community kickoff presentation in the Greenfelder-Denlinger Boardrooms, James Hartsell, director for the Florida Department of Veteran Affairs and a retired U.S. Marine Corps major general, welcomed Monthervil and spoke of his late son Evin, a 2015 Saint Leo graduate, who was known for zipping around campus in his wheelchair. Evin Hartsell had muscular dystrophy and passed away in 2018, and he was the author of ABLED in a Disabled World: My Journey from Despair to Gratitude.
San Antonio Mayor Mark Anderson noted that Monthervil, "will be moving into a community named Heaven. I hope you find that this is your own slice of heaven."
Senese welcomed Monthervil to the community and invited him to enroll at Saint Leo. "Anything not covered by [veterans' benefits], we will cover for you to attend," he added.
Current Saint Leo student Timothy Read was the recipient of an HOFT home in Wesley Chapel in 2020. Read was medically retired from the U.S. Marine Corps. During his second deployment to Afghanistan on Oct. 15, 2010, he was on patrol with the 2nd Battalion, 6th Marines in Marjah, when he stepped on an improvised explosive device (IED), according to the HFOT website. The blast resulted in the loss of his left leg above the knee in addition to other injuries. "He underwent numerous surgeries and rigorous rehabilitation therapies at Walter Reed Medical Center, Balboa Navy Medical Hospital, and the VA in Tampa," the website states. "While being treated in Tampa, he met his wife Anh Lan Du, who works in the hospital's prosthetics department."
He is pursuing a degree in software engineering at Saint Leo and, "plans to use this degree, along with his mechanical background, to work on newer models of cars. He would like to create his own nonprofit race team to help raise money and awareness for organizations that helped him, like Homes For Our Troops."
Read's HFOT house has provided him with many advantages and accessibility, he said. "I hope this gives you a splinter of your soul back," he told Monthervil.
The houses built through Homes for Our Troops are fully accessible, said Cindy Baptiste, CFO. "These homes are life-changing," she said. She shared that recipient Monthervil is resilient, patient, and joyful, and he values his family.
An emotional Monthervil spoke to those gathered at Saint Leo and said, "Thank God for blessing me to be here."
There will be more opportunities for the Saint Leo community to support Monthervil and Homes For Our Troops at a "Volunteer Day" and a key ceremony. Find our more here.
Donations may be made directly to the building project for Monthervil's home on this website. On the donation page, use the drop down menu to select Monthervil, Michael (FL).
Views photos of the kickoff community event below.