Events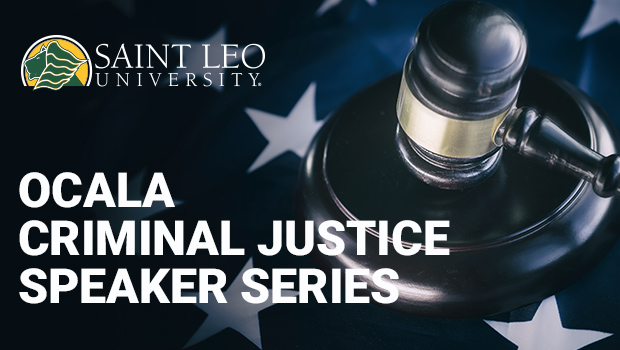 Published on January 21st, 2022 | by University Communications
0
Ocala Criminal Justice Speaker Series continues February 9
Saint Leo continues its 2021-2022 Criminal Justice Speaker Series on Wednesday, February 9. The events are open to the public, students, faculty, staff, and alumni and are a great opportunity for those who are serving or interested in law enforcement or criminal justice.
The university is hosting this free series at the Ocala Education Center, 1930 S.W. 38th Ave., Ocala, FL 34474, and online via Zoom. All sessions will be held 1-3 p.m.
The sessions will cover a range of topics from assisting victims of trauma to police reform. They include:
Testifying Made Easy, from 1 to 3 p.m., Wednesday, February 9, 2022. The speaker is Dr. Christine Sereni-Massinger, associate professor of public safety administration at Saint Leo. A former state prosecutor, criminal defense attorney, and elected Pennsylvania's youngest female judge, Sereni-Massinger will speak about preparing law enforcement officers to testify in court. She will explain the most effective ways to testify and explain how to avoid common tricks and traps of defense council in cross examination.
Police Reform, from 1 to 3 p.m., Thursday, April 14, 2022. This training is by Saint Leo University's instructor of criminal justice, Charlotte F. Braziel, who will discuss the history of police reform, what police reform looks like post-George Floyd's death in 2020, and how police reform will change policing in the future. Braziel retired from the FBI after serving 26 years. She served as a special agent and specialized in white collar crime, bank fraud, major organized crime, human trafficking, and terrorist investigation. Braziel was the senior team leader for the Tampa Evidence Response Team and was hazardous material- and weapons of mass destruction-certified. She was certified as an FBI Instructor and has taught crime scene management, case management, informant development, presentation skills, and defensive tactics classes internationally and domestically.
To register, email ocala@saintleo.edu or call (352) 671-3391.
For more information or special accommodations, contact Rena Rolfsen at Rena.rolfsen@saintleo.edu or call (352) 671-3391.