News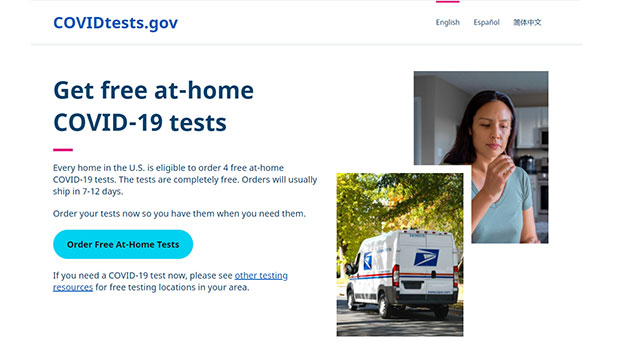 Published on January 27th, 2022 | by University Communications
0
Free at-home COVID tests available
In partnership with the U.S. Postal Service, the Department of Health & Human Services recently announced a program to get COVID-19 tests in more households quickly.
Every home in the U.S. is eligible to order four free at-home COVID-19 tests. Orders typically ship within seven to 12 days. These are rapid antigen tests and provide results within 30 minutes. The only information needed to place an order is your name and residential address. You can also share an email address if you wish to receive updates on your order status.
To order your tests, visit www.covidtests.gov. If you have difficulty accessing the internet, you can call (800) 232-0233 to get help in more than 150 languages.
If you need a COVID-19 test now, there are other resources available:
At-home tests at retailers and pharmacies: These tests are available for purchase at various pharmacies and retailers across the nation.
Insurance reimbursement: As mentioned previously, your OptumRx insurance will reimburse you for up to eight at-home tests per month, per person covered by your plan. Learn more at https://www.optumrx.com/testinfo.
Free testing sites: No cost antigen (rapid) and PCR COVID-19 tests are available at more than 20,000 sites nationwide. To find resources near you, visit: https://www.hhs.gov/coronavirus/community-based-testing-sites/index.html.