News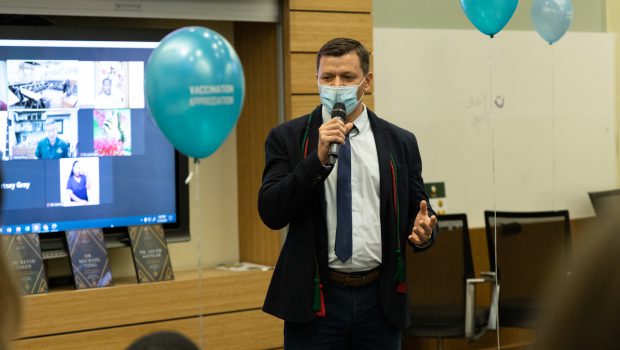 Published on November 19th, 2021 | by University Communications
0
Saint Leo scholars, students gather insights into COVID-19's characteristics and impacts
In addition to the work Saint Leo University has been doing to keep the community safe and well-informed during this COVID-19 era, faculty and students have carried out various projects that have generated deeper levels of understanding about the pandemic. Resulting discussions and writings are now digitally available for viewing and reading.
A Zoom recording is now available of the November 15 Vaccination Appreciation Day panel sponsored by the Saint Leo chapter of the TriBeta Biological Honor Society with assistance from faculty advisor Dr. Sergiy Borysov. Scientists from a cross-section of disciplines described pandemics from the past and the history of vaccines; characteristics of the virus responsible for COVID-19 virus and the Delta variant; and insights into the capacity of the current viral threats to spread. Panelists also explained how scientific research from recent years helped scientists develop current and new vaccine treatments; how manufacturing advances have helped; and the mission of the public health fields. You can watch here.
In October, the Saint Leo University Polling Institute, directed by Frank Orlando, collected public-opinion data nationally and across Florida about the impacts of COVID-19. Faculty members from the disciplines of political science, biology and medical humanities, psychology and theology/religion reviewed statistical findings and added their perspectives for the general public and news media. Detailed polling institute press releases incorporating this material were issued on a rolling basis in November and are posted at polls.saintleo.edu. A number of media outlets have reported various findings.
For more information, contact faculty members Sergiy Borysov, sergiy.borysov@saintleo.edu, or Frank Orlando, francis.orlando@saintleo.edu, about the respective efforts they coordinated.