HR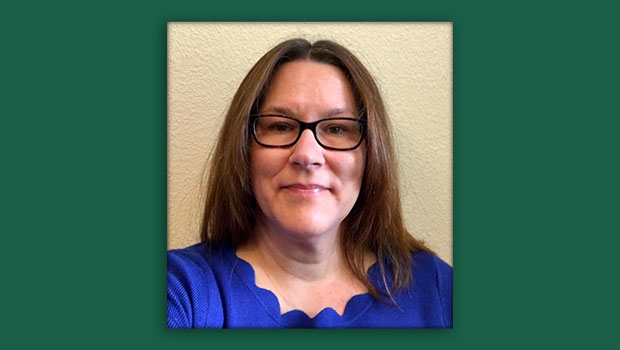 Published on November 16th, 2021 | by University Communications
0
Employee Spotlight — April Rathbone
Every month an employee is randomly selected and asked to participate in an 'Employee Spotlight' for each month of the Wealth of Wellness. As a part of Saint Leo's Core Values, a sense of Community is achieved by getting to know each other! This month, we recognize, April Rathbone.
What motivates you to wake up and go to work?
Very simply, it would be the people. I've had some excellent managers, co-workers, and students over the years. I love to assist, whether it be a co-worker, another department, or a student. We have so many great people at Saint Leo, and I've been fortunate enough to get to know many of them.
What do you do at Saint Leo?
I just started a new position as a veterans certification specialist. My primary role is to certify our veteran's tuition and fees to the Veterans Administration and assist our veteran students. I've only just begun this position, and I'm very excited to work with our veteran students. I'm also thrilled to work with my new team, some of whom I've known throughout my eight years with Saint Leo, and one who I have known since our sons were in middle school! Before this position, I worked in Enrollment Marketing as an Enrollment Counselor and in Student Operations as an Enrollment Coordinator.
What has been your favorite project so far?
I have only just moved to this department, so I am still in training. This week, I attended the NAVPA national conference and listened to speakers from the Veterans Administration and other state approving agencies. It was a great opportunity to be able to interact with other school certifying officials and the VA.
What's something most people don't know about you?
I love Marvel movies! I have seen every one of them multiple times. I've already seen Black Widow twice, and it just came out. My son keeps me up to date on release dates and we have seen most of them at the theatre, together.
What do you do to stay healthy?
Honestly, not enough. I try to eat well, but I love my sweets! Sweets were very easy to find at our Tampa location. Everyone was very generous and always had a full candy bowl on their desk, which I found hard to resist! The last few months have been hectic for me between work and school, and moving. Hopefully, now that we are all settled into our new home and the cooler weather is coming around, I can get outside more and get some needed exercise.
What do you like the most about our benefits package at Saint Leo?
The retirement plan is fabulous, but I would have to say the tuition remission has been the most significant benefit to me and my family. I have three children; my oldest recently graduated with his bachelor's degree in Education and is working at Newsome High School in Fish Hawk. My second child is completing her bachelor's degree this term and pursuing a master's degree in the Spring. My youngest is currently working on an associate degree, and I've utilized the tuition remission for myself and am looking forward to completing my degree next year.