News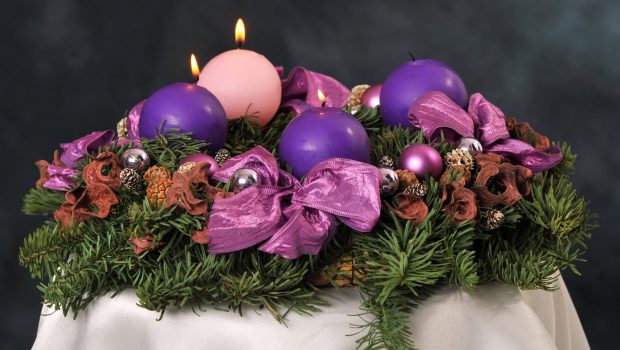 Published on November 17th, 2021 | by University Communications
0
Advent begins November 28, beginning time of reflection and preparation
The first Sunday of Advent is November 28, which marks the beginning of the Advent season. If you visit the Saint Leo Abbey Church or other Catholic (and some Christian) worship spaces, you may see Advent wreaths with purple bows or candles, and the priests will wear purple vestments during worship. As with Lent, purple is the liturgical color for Advent as both are seasons that prepare for great feast days, Easter and Christmas, respectively. Advent ends on December 24, with the celebration of Christmas.
A pink candle (or a white candle with a pink bow) is lit on the third Sunday of Advent (December 12 this year), which is called Gaudete Sunday, meaning "rejoice," as the waiting for Christ and the celebration of his birth at Christmas is almost over.
"Advent is a special time of the year in which we are invited to enter into the mystery and beauty of the Nativity of Jesus Christ," said Lucas Nocera, music minister for University Ministry. "It is a mystery in that God becomes man, and it is beautiful in what it means for us.
"At the very moment of the birth of Jesus, we have a God who voluntarily enters into our struggles and joys, our hardships and victories," Nocera continued. "He is not far off, but incredibly close. Advent, coming from the Latin adventus or 'arriving,' is our opportunity for our hearts to prepare for his arrival with those we love and care about."
Nocera suggests that to learn more about Advent and ways to enrich your spiritual life this season, read more here.
Everyone is invited to celebrate Mass with University Ministry at 5 p.m., Monday through Friday, at the Saint Leo Abbey Church. The Sunday student Mass is at 7 p.m. The final student Mass for the year will be at 7 p.m., December 12.