News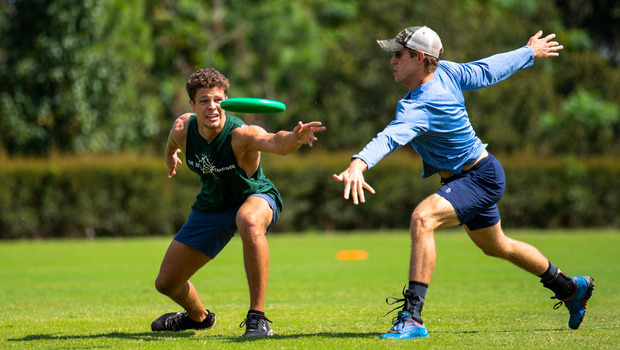 Published on October 15th, 2021 | by University Communications
0
Saint Leo University Ministry Lions claim victory over USF in Chaplain's Challenge
The Saint Leo University Ministry Lions claimed the cup on October 9 in their Ultimate Frisbee match against the University of South Florida Catholic Student Union Bulls. Father Randall Meissen, university chaplain for Saint Leo, launched the 2021 Chaplain's Challenge, inviting the Bulls, led by USF's chaplain Father Kyle Bell, to join the Lions in Mass and a "friendly" competition for the sought-after cup— a green glass trophy graced by Saint Leo's lion mascot holding a U.S. flag and a rosary.
It was a time for faith and fellowship as the Lions and Bulls celebrated together at Mass at Saint Leo's Saint Jude Chapel. Meissen and Bell were joined by USF alumnus Father Anthony Astrab and Father Bernardo Torres, friend of Meissen and a fellow Legionary of Christ priest, to concelebrate the Mass before the game.
Dr. Randall Woodard, chair of Saint Leo's Department of Philosophy, Religion, and Theology, played for the Lions, while Astrab, who is the parochial vicar of Nativity Catholic Church in Brandon, FL, was described by Meissen as the USF Catholic Student Union's "secret weapon."
Catholic Diocese of St. Petersburg Bishop Gregory Parkes, who also is a Saint Leo University trustee, sent his encouragement to the players, but maintained a "holy neutrality" when it came to picking a winner.
"It was a well-fought game in the Florida sun on the Saint Leo intramural field," Meissen said. "Our prayer, a Hail Mary in the team huddle just before the start of game, paid off. Saint Leo brought home the Chaplain's Cup."
The Lions claimed a 13-10 victory, and hope the Chaplain's Challenge becomes an annual tradition for the two universities. View photos below.
Photos by Isaac Jeter.