Events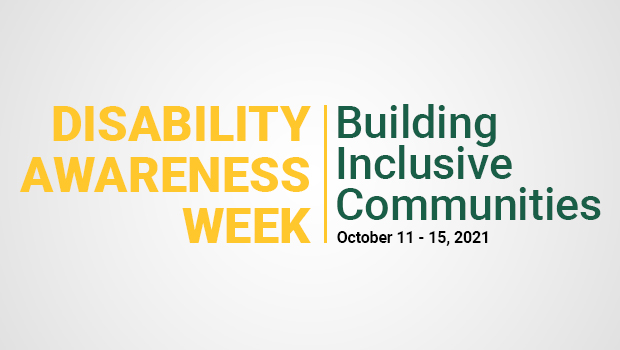 Published on October 8th, 2021 | by University Communications
0
Saint Leo community invited to join Disability Awareness Week activities
Each October, Saint Leo University observes Disability Awareness Week. This celebration is a chance to reflect on our core values and the ways in which individuals with disabilities have contributed to our university and community. It is also an opportunity to consider the ways we can work together to promote inclusion and equity in everything we do.
This year, Accessibility Services is partnering with a number of on and off-campus partners to host a series of events from October 11 – 15 to help our community come together, celebrate, and reflect. The Office of Accessibility Services invites all members of the Saint Leo community to participate in any or all of the week's events.
Events and activities include:
Accommodations in the Workplace: Join Accessibility Services, Career Services, and Human Resources for a discussion about disability rights in the workplace. This session is geared toward both individuals who may be seeking accommodations or future managers, business owners, or human resources professionals who may want to know more about how to support individuals with disabilities in the workplace. The event will be held from 6-7 p.m. on Monday, October 11, and is available both virtually via Zoom and in person in Kirk Hall, Room 122. Attendees are encouraged to register via Handshake.
Mental Health Awareness: Join our guests from NAMI (National Alliance on Mental Illness) to learn more about the importance of mental health. NAMI is America's largest grassroots mental health organization and will be providing information about important mental health resources. They will be available outside of the Student Activities Building from 10 a.m. to 1:30 p.m. on Tuesday, October 12.
Movie Night: Autism Goes to College: Come grab some free popcorn and join us for movie night. This year's Disability Awareness Week movie night is Autism Goes to College. This documentary film follows multiple students with autism as they maneuver college life. Students who attend will also have a chance to earn a free Autism Connect Ally T-shirt. The movie will be projected on the Kirk Lawn and streamed via Zoom beginning at 7 p.m. on Wednesday, October 13.
Beep Baseball Game: Come join Accessibility Services, MISO, and our university baseball and softball teams at the game. The university will host Special Olympics Florida and the Division of Blind Services for a game of beep baseball. Beep baseball is an adaptive sport designed to allow those who are blind or visually impaired to enjoy America's past time. The short exhibition game will be broadcast for the whole Saint Leo community and participants on the University Campus will have a chance to see how they fair at using their sense of hearing to hit the ball from a tee. Also, you won't want to miss a special appearance by our Gold Rush Dance Team. The game will be held at 5:30 p.m. on Thursday, October 14, on the Lacrosse Field.
For more information about Accessibility Services at Saint Leo University, email adaoffice@saintleo.edu or call (352) 588-8464.