Human Resources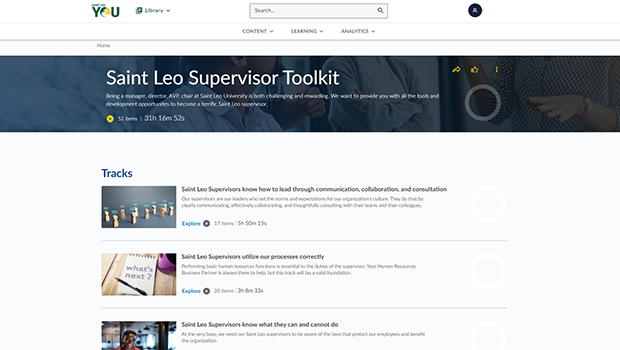 Published on October 22nd, 2021 | by University Communications
0
Human Resources introduces Saint Leo Supervisor Toolkit
Human Resources is excited to announce the release of the university's first toolkit for supervisors. Designed as a curated curriculum with helpful resources for supervisors at Saint Leo, the Supervisor's Toolkit includes topics ranging from how to approve time to managing successful teams. All staff and faculty also are encouraged to use the toolkit.
Available through Saint Leo YOU, the Supervisor Toolkit is divided into four tracks:
Saint Leo supervisors know how to lead through communication, collaboration, and consultation. This track includes courses that help supervisors learn best practices for developing and managing a team, motivating their employees, coaching, and much more.
Saint Leo supervisors utilize our processes correctly. This track includes user guides and process maps for handling university processes and procedures such as hiring, terminating, and taking disciplinary action. Also included are items such as how to conduct a performance review in Workday and understanding the contract review process.
Saint Leo supervisors know what they can and cannot do. This track includes modules regarding exempt vs. nonexempt employees, the Americans with Disabilities Act, and information on the Affordable Care Act.
Saint Leo supervisors seek balance. This track includes items that will aid supervisors in reducing stress through setting personal and professional priorities.
The Supervisor Toolkit will be assigned to university employees who have another employee reporting to them. While there are no requirements or deadlines to complete the entire toolkit, individual items may be assigned to supervisors for required completion in the future. As processes and procedures change, Human Resources will update the toolkit and develop new resources for supervisors based on the suggestions of faculty, staff, and supervisors.
Those who are supervisors can easily access the Supervisor Toolkit, which is available as a new Aspire Journey on the Saint Leo YOU app. Go to the Saint Leo YOU icon in the Okta portal. Once there, find the Saint Leo University subject in the library and click on the item, "Supervisor Toolkit." You also may simply click HERE! The Saint Leo community is encouraged to check out this new resource.
If you have any questions or suggestions, please contact Human Resources Learning and Development at Shannon.moore02@saintleo.edu or joseph.arner02@saintleo.edu.