HR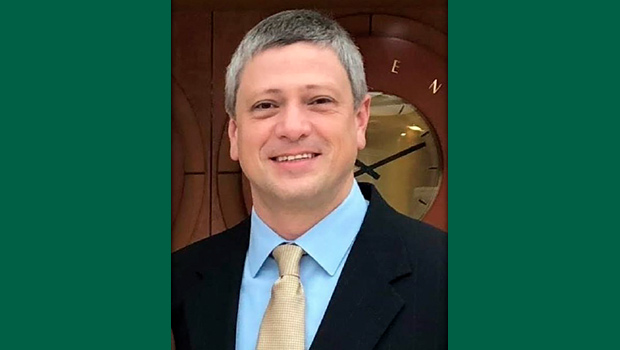 Published on September 10th, 2021 | by University Communications
0
Employee Spotlight — James DeTuccio
Every month, Human Resources selects an individual for inclusion in the Employee Spotlight feature of the Wealth of Wellness newsletter. The feature is an expression of the core value of community: The interviews allow employees to get to know more about each other. This month, Human Resources recognizes James DeTuccio, senior associate vice president of finance.
What motivates you to wake up and go to work?
I love Saint Leo, and I enjoy working with people who share the same values. I've worked for publicly held companies and a nonprofit hospital group, but those places don't compare to our Saint Leo culture. Saint Leo is a place where employees at all levels truly care about and believe in our mission.
What do you do at Saint Leo?
I lead incredible teams that handle our accounting, budgeting/reporting, payroll, billing, sponsor billing, accounts payable and procurement, accounts receivable, and student financial services. These employees make my job so much more enjoyable and rewarding. We are responsible for compliance, cash management, managing and enhancing our internal controls, paying employees and vendors, handling student billing, financial aid, student disbursements, and watching over our financial results. We also handle external audits, taxes, and oversee the financial budgeting and reporting process.
What has been your favorite project so far?
The 2019 bond credit rating with S&P Global Ratings and the subsequent bond financing (which a portion of is financing the Wellness Center). I enjoy learning new things—and there was a lot to learn regarding this process. We obtained Saint Leo's first-ever public bond rating and Saint Leo's first-ever public bond placement. It took a lot of work and required lot of input from every division, but the end result was amazing.
What's something most people don't know about you?
I love to travel the world—and so far I've been to over 20 countries in four continents. The more you explore the world, the more you realize we're not so different. My favorite countries to visit are in Europe—I especially love visiting Italy. Eventually, I'd love to visit all seven continents.
What do you do to stay healthy?
I walk every single day. As an introvert, I try to find time to decompress alone and meditate. I also eat a lot of fruits and vegetables. I'm excited about the Wellness Center opening soon! I plan to use the facilities to increase the amount of time I exercise.
What do you like the most about our benefits package at Saint Leo?
Saint Leo offers a very generous benefits package including a generous number of holiday and vacation days, as well as a generous retirement match. The amount of time off is great; it allows you to recharge and spend time with people you love and care about. When you've worked at places that don't provide the same level of benefits, you really appreciate what Saint Leo provides. I would recommend everyone take time off to recharge when possible and double check your retirement contributions. If you're not receiving the full 9 percent match, then incrementally increase your contribution rate until you do!