Events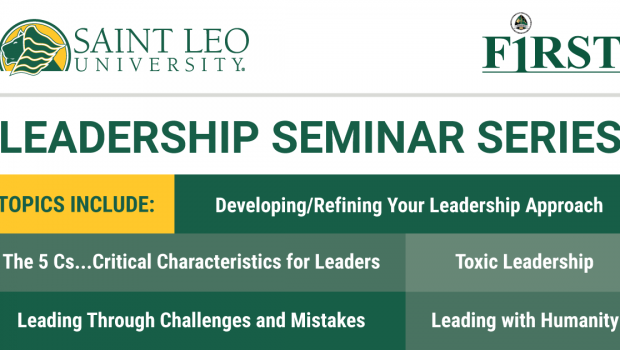 Published on August 20th, 2021 | by University Communications
0
Saint Leo, F1RST offering leadership seminar August 25
F1RST, Florida's Forensics Institute for Research Security & Tactics, an enterprise of the Pasco Sheriff's Office, in partnership with Saint Leo University's Department of Public Safety Administration and its criminal justice program, will present the next session in its Leadership Seminar Series on August 25.
Geared toward providing organizational leaders (of all levels) advanced concepts and philosophies for sound leadership principles and decision-making, Senior Leader Perspectives On Refining Your Leadership Approach, will be presented 1-3 p.m., Wednesday, August 25, via Zoom.
Organizational managers and leaders are invited to advance their professional development through this free seminar. Registration is available or email lalvarez@pascosheriff.org.
The instructor for the course is Samuel G. Worth, former deputy director of the U.S. Naval Criminal Investigative Service (NCIS).
Seminar topics include:
Leading with Humanity;
Developing/Refining Your Leadership Approach;
The 5 Cs…Critical Characteristics for Leaders;
Toxic Leadership; and,
Leading Through Challenges and Mistakes.
Worth retired from NCIS in August 2018 after 29 years as a special agent. He now is a senior consultant in the areas of law enforcement, counterintelligence, and insider threat.
.