Athletics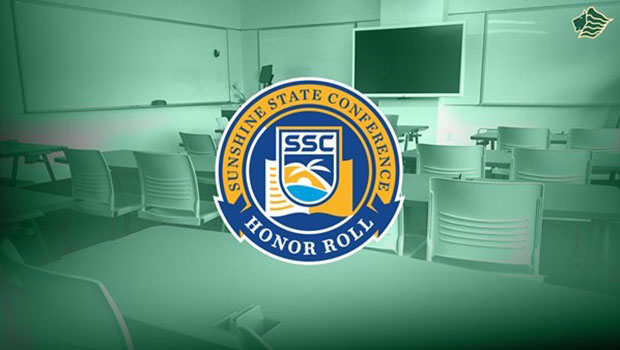 Published on July 6th, 2021 | by University Communications
0
Saint Leo places 183 on Spring SSC Honor Roll, presented by Barnes & Noble College
Saint Leo University placed 183 student-athletes on the Spring Sunshine State Conference (SSC) Commissioner's Honor Roll, presented by Barnes & Noble College, it was announced July 1.
The Lions were among 1,738 student-athletes across the conference to earn the honor. There were 373 students with a perfect 4.00 grade-point average for the semester, and Saint Leo saw 21 student-athletes post a 4.00 GPA this past spring, including four from men's golf, to lead the way.
Men's lacrosse led the way on the men's side with 30 honorees while women's lacrosse led for the women's programs with 24 student-athletes on the list. Baseball finished a close second on the men's side with 28 honorees while the softball team finished second on the women's side with 22 recipients.
The 2021 numbers mark the second time in which the SSC has recognized more than 1,700 student-athletes and 350 perfect grade-point averages on the Spring Honor Roll. The record of 1,819 SSC Spring Honor Roll recipients and 517 perfect grade-point averages was set in Spring 2020.
To be eligible for the Spring SSC Commissioner's Honor Roll, a student-athlete must post a minimum GPA of 3.20 on a scale of 4.00. Participants in the sports of men's and women's basketball, men's and women's swimming, men's and women's golf, men's and women's tennis, men's and women's lacrosse, women's rowing, baseball, and softball are eligible for the SSC Spring Honor Roll.
Having won 113 Division II National Championships since the league was founded in 1975, SSC's student-athletes have proven successful in competition in addition to the classroom. Recently, the SSC achieved an Academic Success Rate (ASR) of 86 percent for the 10th consecutive year.
For the latest news, updates, and information on Saint Leo athletics, be sure to visit SaintLeoLions.com. Fans can also stay up-to-date on the latest Lions news by following Saint Leo Athletics on Facebook, Twitter, Instagram, and YouTube.
Full Listing: 2021 Spring SSC Commissioner's Honor Roll
2021 Saint Leo Perfect 4.0 GPA Student-Athletes
Anastasis Spyroglou – men's basketball – psychology
Alex Button – women's basketball – management
Alex Clark – men's swimming – accounting
Emma Bjoernholdt – women's swimming – psychology
Isabelle Sering – women's swimming – economics
Cassidi TenEyck – women's swimming – marketing
Drew Rudsinski – baseball – sport business
Andrew Schimmoler – baseball – criminal justice and political science
Amir Wright – baseball – MBA: marketing
Kayla Betts – softball – psychology
Antoine Beaupre-Vachon – men's golf – MBA: Aacounting
Oliver Lilliedahl – men's golf – management
Shane Reynolds – men's golf – management
Bastiaan Vermeulen – men's golf – MBA: data analytics
Cole Bitner – men's lacrosse – criminal justice
Justin Taylor – men's lacrosse – economics
Nina Urban – women's lacrosse – sport business
Nicolas Bacella – men's tennis – management
Jose Moreno – men's tennis – undeclared
Leo Vega – men's tennis – sport business
Celina Ermann – women's tennis – undeclared