News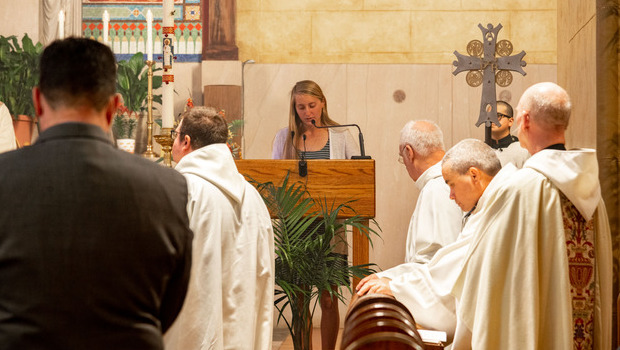 Published on April 8th, 2021 | by University Communications
0
Saint Leo community gathers in-person, virtually to celebrate grads at Baccalaureate Masses
Although it looked different this year, Saint Leo University celebrated its graduating seniors at two Baccalaureate Masses on April 7 and 8 in the Abbey Church. Because of COVID-19 safety protocols, attendance was limited, but both celebrations were livestreamed via Facebook and may be found at Facebook. (See below for a photo gallery).
Father Randall Meissen, university chaplain, welcomed all including Abbot Isaac Camacho, OSB, celebrant of the Mass; the Benedictine community of Saint Leo Abbey; the Benedictine Sisters of Florida, who were following online; University President Jeffrey Senese; trustees; faculty; staff; family; benefactors; friends; and the graduates, in the church and following online.
"It's been an extraordinary year," Meissen said. "And we'd never want to neglect, as the year grows to a close, to gather in prayer to honor and to celebrate as we can, united very much in spirit even when we are unable to be united in presence. We rejoice in honor of the sacrifices and accomplishments that have carried you, our graduates, through your time and studies at Saint Leo.
"May you strive toward excellence in all you do in life . . . May the knowledge you've learned and the values we cherish at Saint Leo continue to deepen into true wisdom throughout your life," he said.
Camacho, a Saint Leo alumnus and member of the Saint Leo University Board of Trustees, said, "Today, we celebrate the success of those who will graduate at this time, the Class of 2021. We celebrate the success of you."
He noted that those students present at Mass represented the rest of their class. "We still cannot gather in big numbers to celebrate your accomplishment. At this celebration in this church in the middle of Saint Leo, we have gathered a few of you to represent the entire university," the abbot said.
"It is today that we say to God, 'thank you' for your success," he continued. "This sentiment of gratitude is not only to God, but from the cleaning lady to all who made Saint Leo possible. The crew of cooks, the staff in the many offices, and the professors, and the leadership up to the president of the university. All of them contribute to your success. We, the monks, give thanks to you, and daily we pray for all those who work and study at Saint Leo."
Senese noted that, "we start our academic careers at Saint Leo University with the Mass of the Holy Spirit, and we end our academic careers at Saint Leo University, appropriately, with the Baccalaureate Mass. I hope that for your lifetime that you remember that. That's important; it's built on what we do as a values-based, Catholic Benedictine institution. But this, too, is a celebration of your great joy of graduating."
(View photo gallery below).