News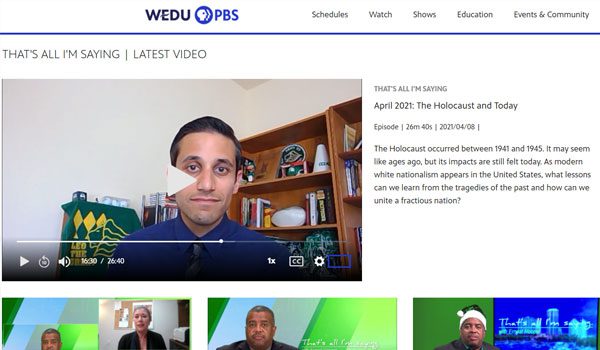 Published on April 9th, 2021 | by University Communications
0
Saint Leo expert discusses political strife, solutions during broadcast
Saint Leo faculty member Frank Orlando appears in the April broadcast of WEDU-TV's That's All I'm Saying, with Ernest Hooper.
The broadcast first aired on April 8 and can be found online at www.wedu.org/shows/thatsall.
Hooper, a former Tampa Bay Times columnist, hosts the program on the Tampa-area PBS channel, and examines a variety of issues monthly. April's program, The Holocaust and Today, focuses on the continuing impact today of the Holocaust (1941-1945). "As modern white nationalism appears in the United States, what lessons can we learn from the tragedies of the past and how can we unite a fractious nation?" the program asks.
Orlando is a political science instructor and the director of the Saint Leo University Polling Institute (polls.saintleo.edu). His part in the segment airs after the 21-minute mark. Orlando shares that recent polling shows 86.2 percent of respondents say the nation is divided. However, 67.3 percent of Americans surveyed say they are willing to build bridges with those with whom they disagree. Orlando provides insight during the broadcast as to what Americans are saying about healing.