Events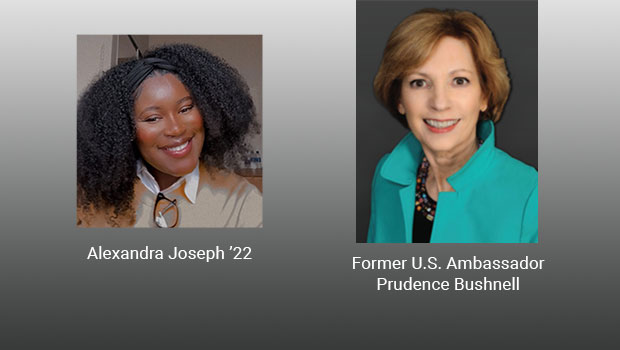 Published on March 2nd, 2021 | by University Communications
0
Hear webinar with former U.S. diplomat in honor of Women's History Month
The Saint Leo University community is invited to attend a virtual webinar and discussion with former U.S. Ambassador Prudence Bushnell, to be conducted at 6 p.m. (EST), Monday, March 15. Saint Leo student Alexandra Joseph '22, will speak with Bushnell about her life and career.
Bushnell first came to broad attention for her efforts in trying to save lives in Rwanda. It was when she was assigned to work for the U.S Assistant Secretary of African Affairs in the early 1990s under the administration of President Bill Clinton. She was monitoring the unrest in Rwanda in 1993 and 1994 and issued warnings to try to avert the genocide that was, in fact, committed over the course of 100 days, beginning in April 1994. Two years later, Bushnell was named U.S. ambassador to Kenya, and was injured during a 1998 Al-Qaeda bombing of an embassy building in Nairobi. She later (in 2017 and 2018) wrote a book about what happened in Kenya called Terrorism, Betrayal & Resilience: My Story of the 1998 U.S. Embassy Bombings. In 1999, she was made U.S. Ambassador to Guatemala, where she faced different challenges.
The ambassador is now retired, but is willing to share her thoughts on foreign service, and the importance of Women's History Month. The conversation also is expected to delve into questions of what it means to be a woman of strength, resilience, and survival.
To listen to the webinar, use this link:
https://saintleo.zoom.us/j/98538472148?pwd=K0grKzA4SEltRkcwaUp3bHk2eHptUT09.
Parts of the conversation will eventually be aired during Alexandra Joseph's radio show, "The Dream Room," which she co-hosts on Saint Leo University's radio station, WLSL-FM, 92.7.
For more information on the visit, please contact political science instructor Camara Silver, who is Saint Leo's contact with the ambassador, at camara.silver@saintleo.edu.