Athletics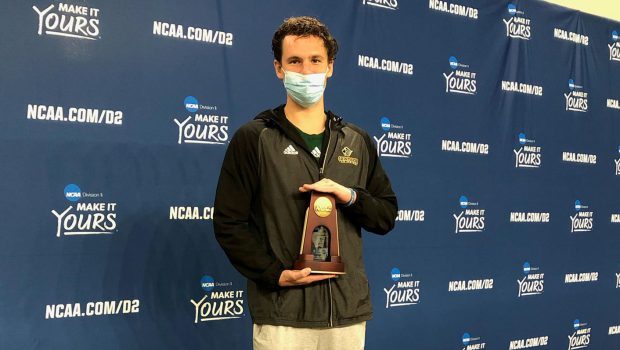 Published on March 19th, 2021 | by University Communications
0
Daniel earns First Team All-American honors at NCAA Swimming Championships
The Saint Leo men's and women's swimming teams opened up action at the 2021 NCAA Division II Swimming and Diving Championships on March 17 and March 18 in Birmingham, AL, and concluded competition on March 20. Junior Matthew Daniel of the men's team became the third All-American in program history in the 1,000-meters, joining two swimmers who hold Top-10 NCAA all-time records, Daniel Bis and Matija Rafaj. Freshman Isabelle Sering took 11th in the women's 100 butterfly as well.
Daniel then captured his second First Team All-American honor of the weekend after placing seventh in the 1,650 meter freestyle Saturday night. Similarly to Thursday night, Daniel had to await the final heats results to find out his final placing.
He sat in third following the morning session heats in the 1650 meter freestyle with just one evening session heat remaining on the schedule. Daniel knew the worst he could finish was 11th, and the best was third since the eight swimmers remaining could either finish with faster or slower times than himself. At the end of the final heat, just four swimmers had surpassed Daniel's time giving him seventh overall and his second All-American honor after his Wednesday morning/Thursday night fourth place finish in the 1000 meter freestyle/
He clocked in at 15:29.97 to take third after the morning swims. Fabio Dalu of McKendree took the top spot at 14:55.12 to set a new NCAA Division II record and championship meet record.
Daniel has had his eyes set on All-American honors since his freshman campaign when he qualified in three events before suffering an injury the week of travel to the championships. He then looked for a strong showing in 2020 before the pandemic shut down the championships prior to their completion.
He had to wait a bit longer than usual to find out his placement in the 1,000 freestyle finals as he swam his heat Wednesday morning, before thunderstorms and tornados took over the central Alabama area and put a temporary halt to the championships. The final heat was moved to Thursday morning. Daniel was in the lead after his heat and was awaiting eight finishers to find out his place. When the final wall was touched, Daniel placed was sitting in fourth place and First Team All-American position. Daniel clocked 9:11.21 just ahead of Eric Hieber of Grand Valley State at 9:11.69.
Sering, who entered the 100 butterfly with the eighth fastest qualifying time, ended up placing 11th. She completed the distance in 55.15, just a bit slower than her qualifying time of 54.81. Lucia Martelli of Delta State took the title at 53.03, while Sering was just edged out of the top-10 by Mady Barnes of Tampa at 55.11, Aleksandra Maslova of Nova Southeastern at 55.10 and Lexie Winnett of Lindenwood at 55.05, who all finished within a 10th of second of Sering.

For the latest news, updates, and information on Saint Leo swimming, be sure to visit SaintLeoLions.com. Fans can also stay up-to-date on the latest Lions news by following Saint Leo Athletics on Facebook, Twitter, Instagram, and YouTube.

Keeping Our Lions Healthy & Safe
Saint Leo University Athletics is keeping our student-athletes healthy and safe by following a number of measures to prevent the spread of COVID-19. This includes having student-athletes tested or screened on a regular basis, traveling in smaller groups, holding competitions without fans in attendance, avoiding overnight trips, and wearing masks when not competing. These safety standards meet those set by the NCAA Division II and the Sunshine State Conference President's Council. At Saint Leo University, the COVID-19 Incident Command Team also reviews the teams' safety protocol and monitors adherence on a regular basis.