News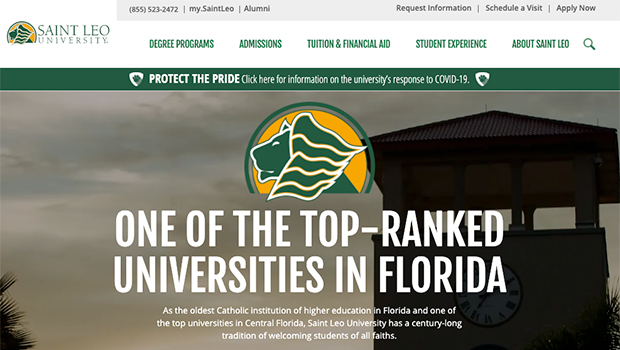 Published on February 12th, 2021 | by University Communications
0
Work begins to redesign the Saint Leo University website
To keep pace with changes in technology and the needs of our growing university, the Enrollment Marketing & Communications team, in collaboration with the Department of Information Technology and University Brand Marketing & Communications, has recently begun work to redesign the university's website. The team will accomplish this task with the support and guidance of EAB, a strategic consulting agency that specializes in research and technology projects for the education industry.
"After the launch of the current site nearly three years ago, the time has come to re-evaluate our website and engage in strategic discussions about how it can best serve the needs of all those who engage with it," said Dr. Senthil Kumar, vice president for Strategic Enrollment Management. "Where Saint Leo has been, as well as the dynamic vision of where we are headed as an institution should be conveyed through the new website to not only prospective students, but our current students, faculty, community, and alumni."
The website redesign calls for a completely fresh look at the site's architecture, visual styling, and content. In a sense, the team is starting with a blank slate. EAB has already engaged in several conversations with faculty, staff, students, and alumni to understand the benefits and struggles with our current site and to identify what opportunities need to be addressed with the new one.
The website redesign is currently in the research and strategy phase of production. Several stakeholder committees across the university community have been formed to provide ongoing feedback, including representatives from Academics, Advancement, and Student Affairs, among others. As this feedback is gathered, it then will be analyzed to ensure it aligns with the university's strategic objectives and needs.
The website is expected to be completed for the Fall 2021 start. As updates and developments are made with the website, you can be sure to learn more about it through the university's internal communication channels.