News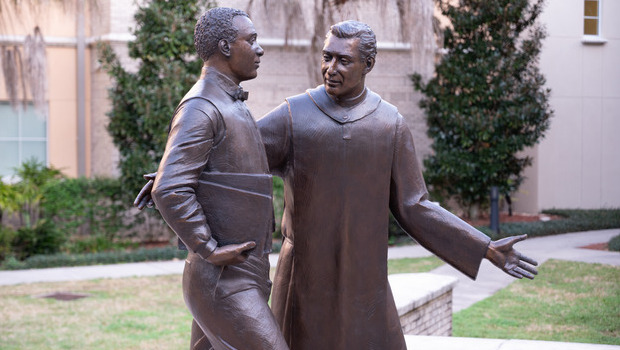 Published on February 3rd, 2021 | by University Communications
0
Join in Saint Leo's celebration of Black History Month 2021
Saint Leo is celebrating Black History Month with activities, displays, and social media posts honoring the contributions of Blacks to culture, academics, and business in the United States.
The Daniel A. Cannon Memorial Library invites everyone to join two of the Recharge with Reading groups in their challenge this month. The Women of Color group and the Unknown Worlds/SciFi group will read Hidden Figures: The American Dream and the Untold Story of the Black Women Mathematicians Who Helped Win the Space Race.
This book by Margot Lee Shetterly tells the story of the "human computers"—female mathematicians—who used pencils, slide rules, and adding machines to make the calculations that launched America's rockets and astronauts into space. The reading groups are led by Dr. Pamela Lee, chair of the Master of Business Administration program and associate professor of management, in the case of the Women of Color group; and Christine Woods, assistant professor and online research librarian, with Jessica Graves, associate director of Saint Leo WorldWide Student Life, are facilitating the SciFi group.
Sign up to join a group here.
Visit the library's homepage often for features on Black authors, poets, and civil rights leaders. Inside the physical library, the Saint Leo community will find titles about the civil rights movement, Black Lives Matter, and other important topics. Featured books include Black Like Me by John Howard Griffin; The Hate U Give by Angie Thomas; and Becoming by Michelle Obama, among others.
Saint Leo's Savannah Education Center in Georgia is observing the month by sharing information on social media channels and in the student newsletter about African-Americans who made an indelible mark on history. The Savannah center also gave back to the community by co-sponsoring a drive-thru Repack the Backpack event on February 3 at the Manna House Ministries Food Pantry and Thrift Store in Rincon, GA. Saint Leo students, faculty, and staff helped provide families with school supplies and food.
And don't forget to check out Facebook (officialsaintleo) and Instagram (saintleouniv) as Saint Leo celebrates and profiles our respected community leaders. You will hear from faculty, staff, alumni, and students.
All locations of Saint Leo University continue to build on the history of serving students of all races, creeds, religions, and ethnic backgrounds. The university was integrated in 1898, when the Benedictine monks who founded the institution admitted a Black student, Rudolph Antorcha, from Cuba, even though integration was not yet legal in Florida. The university is consistently ranked among the top 100 degree-granting institutions for minority students.