News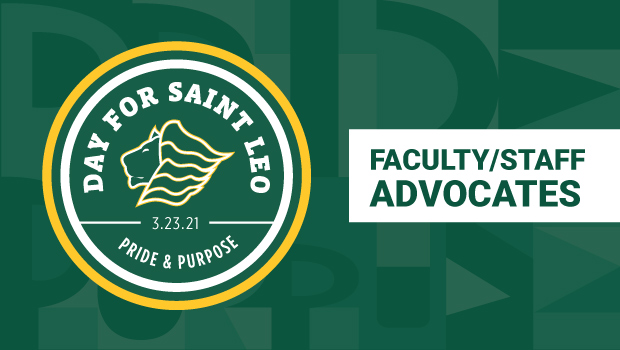 Published on February 12th, 2021 | by University Communications
0
Help your university, become an advocate for Saint Leo
On March 23 the university will once again hold its Day for Saint Leo fundraising campaign. Each year, a Day for Saint Leo brings together our university community to raise money in support of Saint Leo's life-changing mission.
As we gear up for this day of giving, University Advancement is looking for faculty and staff to become Day For Saint Leo advocates. Serving as an advocate can be an easy way to help the university and it doesn't take much effort to achieve success.
On a Day for Saint Leo, advocates are charged with sharing a personal plea explaining why they believe that it's important to give to Saint Leo and that encourages their former classmates and friends to do the same. The key to success as an advocate is simple: Spread the word to as many people as you know. This is a day about giving, and all gifts, no matter how big or how small, go a long way toward helping Saint Leo succeed.
Dollars raised will help fund the university's academic programs, student scholarships, athletics program, military education, and future university development projects. The goal for this year's campaign is to raise $250,000 in just one day!
If you are interested in becoming an advocate or would like to learn more, please contact Regina Belvin, assistant director of alumni engagement and sustained giving, at regina.belvin@saintleo.edu