Athletics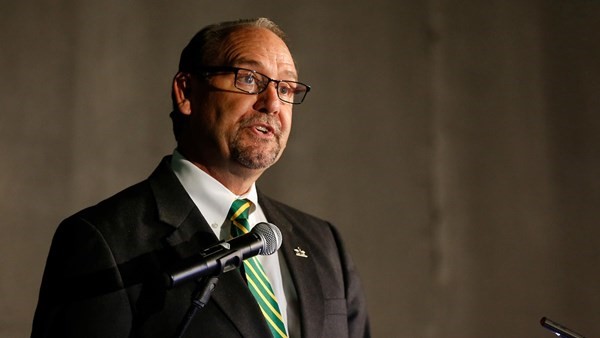 Published on February 19th, 2021 | by University Communications
0
Fran Reidy featured guest on 'Bonafide Basketball' podcast
Saint Leo University Vice President and Director of Athletics Francis X. Reidy, who serves as the chair of the NCAA Division II Men's Basketball Committee, recently joined host Chris Cottrell on the "Bonafide Basketball" podcast. The podcast will be available Saturday, February 20, and can be found on Apple Podcasts, Spotify, Anchor Podcast or wherever you listen to your favorite podcasts.
"Bonafide Basketball" is the only weekly podcast devoted entirely to NCAA Division II men's basketball coverage.
Host Cottrell, a former NCAA Division I and II men's basketball coach, provides the latest news, scores, insight, and interviews featuring programs, players, and coaches from NCAA DII men's basketball.
Reidy and Cottrell discuss the decision to move forward with a men's basketball national championship, the format of this year's tournament, possible contingency plans, and the selection criteria.
Past episodes of "Bonafide Basketball" have featured head coaches from Top 25 programs such as Colorado School of the Mines; Northern State University; Lincoln Memorial University; Washburn University; and Queens University. Former guest conference commissioners include Patrick Britz of the South Atlantic Conference and Mike Racy from the Mid-American Intercollegiate Athletic Association. Reidy is the first NCAA representative to join the podcast.
For news, updates, and analysis across NCAA Division II men's basketball, the "Bonafide Basketball" podcast is available on Twitter and Instagram at @bonafide_basketball_pod.
For the latest news, updates, and information on the Saint Leo Athletics, be sure to visit SaintLeoLions.com. Fans can also stay up-to-date on the latest Lions news by following Saint Leo Athletics on Facebook, Twitter, Instagram, and YouTube.