News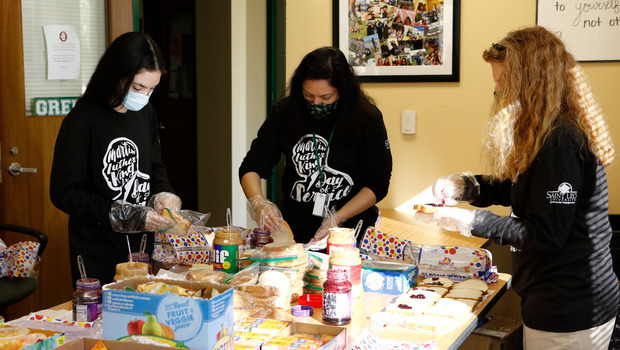 Published on January 22nd, 2021 | by University Communications
0
Saint Leo community honors MLK with service, fun activities
The Saint Leo community honored the legacy of Dr. Martin Luther King Jr. with many acts of service and unity during the week of January 18-22.
On January 18, the observance of the late civil rights leader's birthday, the university held its annual Martin Luther King Jr. Day of Service and faculty, staff, and students performed volunteer acts on and off campus as well as at locations around its education centers.
There were no classes on Monday so students and faculty could participate, and all staff members also had the opportunity to volunteer. They could choose from university-organized events or volunteer at an organization of their own choice.
With masks firmly in place and socially distancing enforced, Saint Leo University volunteers went to work off campus, volunteering for Habitat for Humanity of East and Central Pasco in Dade City and Gulfside Hospice Thrift Shoppe in Zephyrhills. On Tuesday, volunteers participated in a virtual "read-in" for students at St. Anthony Catholic School in San Antonio.
Tuesday's activity featured the creation of a Unity Canopy made of yarn. This created a visual representation that celebrated the uniqueness and commonality within our community while also raising awareness about labels and their impact on our perceptions and interactions.
The Campus Activities Board also presented the Academy Award Best Picture-nominee Selma as the featured Movie on the Lawn on January 20. The film is based on the 1965 Selma to Montgomery voting rights marches led by King, Hosea Williams, and John Lewis.
Throughout the week, the Daniel A. Cannon Memorial Library featured King's "Letter from a Birmingham Jail" on display in the lobby along with many books related to the civil rights movement.