News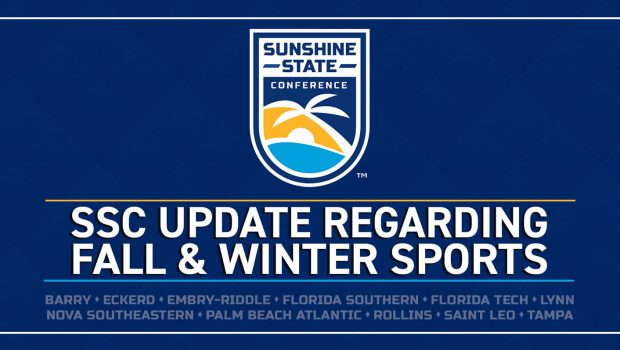 Published on December 13th, 2020 | by University Communications
0
Sunshine State Conference updates plans for fall, winter sports
Due to the challenges presented by the ongoing COVID-19 pandemic, the Sunshine State Conference Presidents Council has decided to cancel conference competition and championships for the fall sports of soccer and volleyball and for the winter sport of swimming during the 2020-21 academic year. Conference institutions, such as Saint Leo, may practice and compete in these sports during the spring 2021 semester as a matter of institutional discretion. In the fall sport of cross country, which is a low transmission risk sport as defined by the NCAA, the SSC intends to conduct a conference championship season during the Spring 2021 Semester, with no overnight travel and competition against conference teams only, provided health and safety conditions support such activity.

In addition, the Presidents Council has further postponed the start of the basketball season until at least February 15, 2021. This decision means that the 11 institutions in the conference will not participate in the 2021 NCAA Division II Men's and Women's Basketball Championships. The conference aspires to conduct a conference schedule in basketball beginning later in the spring should health conditions improve.

These decisions were made with Sunshine State Conference student-athletes and campus communities' health, safety, and well-being as the conference's highest priority.

About the Sunshine State Conference
Established in 1975, the Sunshine State Conference has risen from a single sport organization to the NCAA Division II "Conference of National Champions." Since its inception, the conference has grown steadily in sports played, membership, and national prominence. SSC members have won a total of 111 NCAA national championships across 12 sports. SSC schools have achieved an 86 percent academic success rate for 10 consecutive years.

The SSC consists of 11 member institutions, all within the state of Florida: Barry University (Miami Shores), Eckerd College (St. Petersburg), Embry-Riddle Aeronautical University (Daytona Beach), Florida Institute of Technology (Melbourne), Florida Southern College (Lakeland), Lynn University (Boca Raton), Nova Southeastern University (Ft. Lauderdale), Palm Beach Atlantic University (West Palm Beach), Rollins College (Winter Park), Saint Leo University (St. Leo), and the University of Tampa.