News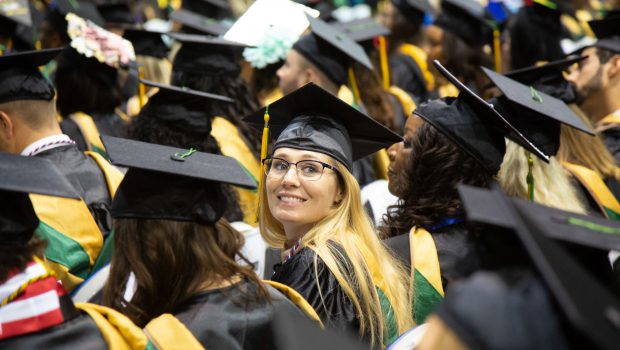 Published on October 24th, 2020 | by University Communications
0
Preparing for the 2021 commencement season
In preparation for the start of 2021 commencement, last week students received an invitation to begin applying for commencement as applications are now available.
Pending any public health concerns related to COVID-19, Saint Leo University Commencement ceremonies will begin with the Key West ceremony on April 16, 2021, followed by other Saint Leo location ceremonies in May and June.
A completed application is required to participate in a commencement ceremony. To be eligible to participate students must:
Complete their degree requirements (this includes associate degrees) by the end of Spring 2021 Semester, or
Have no more than two classes remaining at the end of Spring 2021, which will be completed during the Summer 2021 Semester.
While Saint Leo University is making every effort to hold in-person commencement ceremonies in 2021, it is important to note that new developments with the COVID-19 pandemic may require us to change or postpone our plans. Below is a list of current commencement ceremony locations and dates:
Tampa, Florida – May 1, 2021
Key West, Florida – May 14, 2021 (Key West students only due to base restrictions)
Corpus Christi, Texas – May 22, 2021
Savannah, Georgia – June 12, 2021
The Florida Commencement Ceremony will be held at the Florida State Fairgrounds-Expo Hall in Tampa on May 1, 2021 (the registration deadline is December 14, 2020). While guest tickets are not currently required for the commencement ceremony at the Florida State Fairgrounds, this may be subject to change based on COVID-19. The Baccalaureate Mass will be held the Friday before. Specific details will be communicated closer to graduation weekend.
For additional information about commencement, please check the commencement website or contact the Registrar's Office (commencement@saintleo.edu) should you have any questions.