Events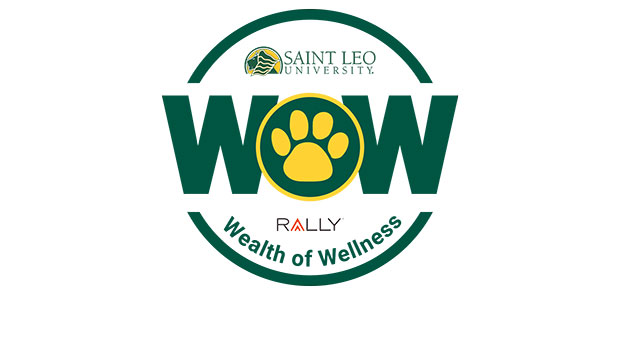 Published on October 11th, 2020 | by University Communications
0
A Wealth of Wellness — October 2020
The Benefits Department presents A Wealth of Wellness for the month of October.
Featured webinar: Domestic Abuse: What it is and what to do
Monthly Awareness: Domestic violence
Let's Talk: Helping children and teens manage their anger
Infographic: Ways to apologize
Podcast – Bridging the generation gaps
---
Rally eligible events for the 2020-2021 benefit plan year!
The webinar listed below is worth $10 in onsite Rally event credit only if you respond to the quiz
During the month of October watch the following Resources For Living webinars at www.resourcesforliving.com
Username: ICUBA and Password: 8773985816
Check out the October ICUBA BenefitsWise Newsletter in Community News: Click here!
Rally webinar from Benefits Division
Interesting fact: Have you had the opportunity to do your wellness exams and biometric screenings? Rally incentives are $60 and $40, respectively. That is $100 you could get in just one doctor visit! Make sure to download and bring your Physician Results Form with you to the doctor's appointment that can be found in the Quest Diagnostic portal at My.QuestForHealth.com.
This form contains a bar code unique to the employee or spouse and will include specific valid date ranges for completion. Take the form with you to your doctor's office when you are reviewing the results of your blood work and have your doctor sign the Quest Physician Results Form. Then, upload your completed form to the same Quest portal.
Webinar – Apologizing: What, When, and How
Quiz – Click here!
Take this quiz to get your Rally credits. (Quiz available until Saturday, October 31).You must view the video and complete the quiz in order to receive $10 in onsite event Rally credit.
Pro tip: Log into Resourcesforliving.com. Then, come back to this article and click on the webinar link(s)!
Onsite/Webinar Wellness Events
(Not Rally-incentive eligible)
Flu Shots by Walgreens:
When: Thursday, October 15, from 11 a.m. – 2 p.m.
Where: Student Community Center, Greenfelder-Denlinger Boardroom
What: Flu vaccine, pneumonia, hepatitis- A, B, or AB-combination, available.
Who: Open to faculty and staff
Important information: First come, first serve (limited capacity due to CDC guidelines for building capacity and social distance measures). Please plan for up to 20-minute wait times.
Please bring your OPTUMRX insurance card
Save time and complete the Walgreens form by clicking here. Be sure to bring this document with you on the day of the event. Save additional time by bringing a copy of your insurance card to attached to your paperwork for easy processing!
3D Mammogram Bus by AdventHealth:
When: Monday, November 2 from 8:30 a.m. – 2:30 p.m.
What: 3D mammogram for women older than 40
Where: Facilities: 8:30 a.m. – 9:30 a.m.
Campus (adjacent to Dining Hall and Lake Jovita): 10:30 a.m. – 2:30 p.m.
Who: Open to Saint Leo faculty and staff
Important information: Appointments last approximately 10 minutes. Please bring your registration forms at time of appointment. (CDC guidelines for capacity on the bus and social distance apply).
Go to https://adventhealthmobilemammography.com/schedule-register/
Select the 'Company' from the drop down menu
Select the day – November 2 – within the calendar provided
Select the time you'd like to attend your appointment
The registration form needs to be completed and provided to the healthcare professional at the time of your appointment. Complete the form ahead of time by clicking here.
Need more information? Visit the frequently asked questions and 3D mammogram flyer by clicking here.
---
Online/ Live Financial Wellness Webinar Series
(Not Rally incentive eligible)
Choose to attend one or more. Reserve your spot today! r
Simple Steps to Improving Your Financial Health
October 20, 3 p.m. (ET) and October 20, 7 p.m. (ET)
Learn about simple but important steps to improving your financial health.
Risk Management
October 21, 5 p.m. (ET)
In this webinar, you'll find out about how to identify and manage risk using different types of insurance such as home, auto, life and more.
Retirement Strategies for Women
October 22,at 4 p.m. (ET)
Let us help you prepare for the lifestyle you envision in retirement as we explore the challenges women face, how they're taking control and saving for retirement.
---
ICUBA announced that in October, Discovery Benefits will be its newest brand partner and the new service provider for ICUBA's flex services including the ICUBA debit card for Health Reimbursement Account (HRA), Healthcare Flexible Spending Account (HCFSA), and Dependent Care Spending Account (DCSA), and our retiree and COBRA services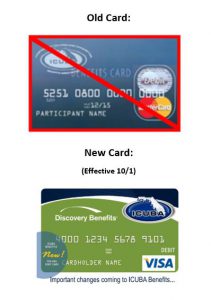 KEY DATES TO REMEMBER
• October 1 – 7: In the first week in October, all employees with an ICUBA spending account (HRA, HCFSA, and DCSA) will receive a NEW ICUBA Benefits VISA Card. This new card will be mailed to your home address in an unmarked white envelope. All employees should ensure your home address is up to date (see FAQs). UPDATE: The cards are delayed in the mail and should arrive the week of October 19.
• October 1: The blackout period begins. Please save your receipts for reimbursement!
• **October 1 – 19, 2020**: (Blackout Period) Effective October 1, 2020, through October 19, 2020, employees WILL NOT have access to any Health Reimbursement Account, Healthcare Flexible Spending Account, and Dependent Care Spending Account Services. Point of sale transactions will be disabled. (The last day these services will be available through Continuon and the MasterCard is September 30, 2020.)
• October 20, 2020: The blackout period ends. All employees with an ICUBA spending account (HRA, HCFSA, DCSA) can resume using your NEW ICUBA Benefits VISA Card for point of service transactions
Read this story for more information
---
Aetna – Child and Elderly Care Services
Have you checked the latest updates from our Aetna provider? It is important to know that they offer child and elderly care services. You can access to these services by calling Aetna Resources for Living: (877) 398-5816 or login into the website: resourcesforliving.com Username: ICUBA Password: 8773985816. Go to the Human Resources/Professional Development tab on the intranet (intranet.saintleo.edu) for more detailed information.
---
---
"Movie theater of the future"
The Grove at Wesley Chapel recently announced that a new renovated cinema will be coming up this fall. Described as a "movie theater of the future," the multi-million dollar project will reinvent what was formerly a Cobb Theater and Cinebistro.
Fun fact: This new cinema will add Spin bikes inside one of the theater rooms "to offer a breathtaking fitness experience." This means you can watch a movie while exercising at the same time to keep you healthy! For more information read the story here.
Remember you can get amazing discounts through TicketsAtWork.com with our company code: SAINTLEO. Just click TicketsAtWork and create an account using the code to explore special access to hotels, theme parks, car rentals, movie tickets, and much more.