Events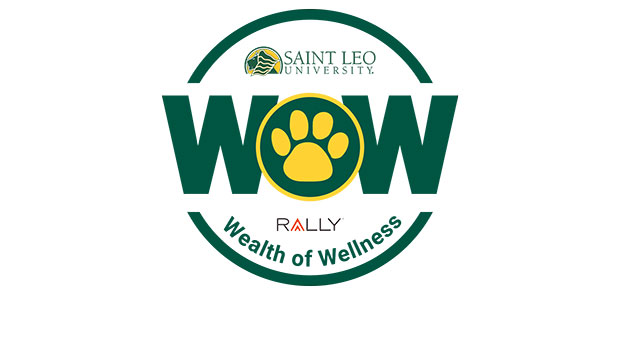 Published on September 4th, 2020 | by University Communications
0
A Wealth of Wellness — September 2020
The Benefits Department presents A Wealth of Wellness for the month of September.
What you need to know about the novel coronavirus: Visit our Saint Leo intranet and read the latest information released by AETNA, Teladoc, and other sources, click here
Featured webinar: Finding comfort beyond the comfort zone – Click here
Monthly Awareness: Suicide and awareness prevention – Click here
Let's Talk: Talent development
Infographic: The benefits of laughter
Podcast – Think Tank: How to talk to someone who is depressed
---

Rally-eligible events have started for the 2020-2021 benefit plan year!
The webinar listed below is worth $10 in onsite Rally event credit only if you respond to the quiz
During the month of September watch the following Resources For Living webinars at www.resourcesforliving.com
Username: ICUBA and Password: 8773985816
Fun fact: Did you know in order to claim your Rally dollars and load them on a gift card, you need to complete the Rally Survey? The survey serves as the "Gatekeeper" to unlocking your Rally Rewards. Did you know you can earn up to $70 dollars in attending and participating in onsite events? This includes Rally approved webinars! You also can earn Rally dollars (spendable gift cards of your choosing) on preventative screenings, qualified medication changes with ICUBAcares and more! Click HERE for additional information on Rally and other benefits via the Saint Leo Benefits Wise Guide!
Silly fact: At the very least, you may be missing out on up to $70 in free money! That equals 12.4, venti white mochas from Benedict's Coffeehouse or 18.9 large vanilla lattes from Dunkin'®!
Webinar – Fighting the Funk: Dealing with Depression
Quiz – Click here to take the quiz!
Take this quiz to get your Rally credits. (Quiz available until September 30, 2020).
Note: You must view the video and complete the quiz in order to receive $10 in onsite event Rally credit.
Pro tip: Log into Resourcesforliving.com. Then, come back to this article and click on the webinar link(s)!
Virtual Health Fair – Happening NOW! Click here for more info on materials, resources, and how to earn Rally dollars!
Healthy Back Webinar – You can earn $10 in Rally by attending the virtual Healthy Back Seminar and passing the quiz. All quizzes must be completed by Friday, October 2, and will be awarded in Rally by October 3o. For information, go to ICUBA's Healthy Back Seminar.
---
Onsite/Webinar Wellness Events
(Not Rally-incentive eligible)
Flu Shots by Walgreens:
When: Thursday, October 15, from 11 a.m. – 2 p.m.
Where: Student Community Center, Greenfelder-Denlinger Boardroom
What: Flu vaccine, pneumonia, hepatitis- A, B, or AB-combination, available.
Who: Open to faculty and staff
Important information: First come, first serve (limited capacity due to CDC guidelines for building capacity and social distance measures). Please plan for up to 20-minute wait times.
Please bring your OPTUMRX insurance card
Save time and complete the Walgreens form by clicking here. Be sure to bring this document with you on the day of the event. Save additional time by bringing a copy of your insurance card to attached to your paperwork for easy processing!
3D Mammogram Bus by AdventHealth:
When: Monday, November 2 from 8:30 a.m. – 2:30 p.m.
What: 3D mammogram for women older than 40
Where: Facilities: 8:30 a.m. – 9:30 a.m.
Campus (adjacent to Dining Hall and Lake Jovita): 10:30 a.m. – 2:30 p.m.
Who: Open to Saint Leo faculty and staff
Important information: Appointments last approximately 10 minutes. Please bring your registration forms at time of appointment. (CDC guidelines for capacity on the bus and social distance apply).
Go to https://adventhealthmobilemammography.com/schedule-register/
Select the 'Company' from the drop down menu
Select the day – November 2 – within the calendar provided
Select the time you'd like to attend your appointment
The registration form needs to be completed and provided to the healthcare professional at the time of your appointment. Complete the form ahead of time by clicking here.
Need more information? Visit the frequently asked questions and 3D mammogram flyer by clicking here.
AIG Webinars (Reminder: Below webinars are not Rally eligible)
Your Life in Retirement
When: September 9, 11 a.m. (EST) and September 17, 4 p.m. (EST)
What: Find out more about managing your income during retirement
Student Debt Solutions
When: September 15, 3 p.m. (EST) and September 23, 5 p.m. (EST)
What: Learn about AIG's loan evaluation tool that helps you take control of student debt
Social Security and Your Retirement
When: September 30, noon (EST)
What: Take an in-depth look at Social Security benefits including estimations, taxes, and more.
Reserve your spot to one, a few or all of the above AIG webinars by clicking here.
---
AIG Retirement Meetings
If you would like to discuss your AIG/VALIC retirement plan from Saint Leo University or former employers, simply click on the link below to schedule a phone appointment with your VALIC/AIG Retirement Services Financial Advisor. Earn $10 in onsite event dollar via Rally for your annual visit with our financial advisor. (Note: One incentive per person, per Benefits Plan Year 4/1/2020-3/31/2020)
"Click here to schedule a phone appointment with your VALIC/AIG Retirement Services Financial Advisor"
---
Coronavirus Relief Fund Housing Assistance Program
The Pasco Board of County Commissioners announced additional assistance for housing expenses for anyone experiencing economic hardship due to COVID-19. Pasco Community Development is partnering with the Florida Housing Finance Corporation to administer the Coronavirus Relief Fund (CRF) Housing Assistance Program to help pay for things such as late mortgage or rent payments, housing repairs, and foreclosure or eviction prevention.
In order to apply, you must submit a hard copy of the CRF Housing Assistance Application in person or by U.S. mail.
You can download the application here: bit.ly/2QbKPUV, or pick up a copy at any of the locations listed here: bit.ly/CRFApplication
*Drop off or mail your completed application, with all required documentation to:
Community Development
8610 Galen Wilson Blvd.
Port Richey, FL 34668
*If you drop off your application in person, please use the red drop box outside the building, which is available 24 hours/7 days a week.
Bills eligible for payment include:
Mortgage payments and buy downs
Emergency housing repair (maximum award $10,000 or actual cost of roof or A/C)
Housing re-entry assistance, such as security deposits and utility deposits
(maximum award of $5,000)
Foreclosure and eviction prevention, including missed payments between three and six months and fees
To qualify for relief under this program, you must be a legal U.S. resident, Pasco County resident, and meet the income guidelines of 120% or below of the Area Median Income. You must attest to being economically impacted by COVID-19 and certify your household income. The total payments for rent or mortgage assistance shall not exceed 9 months.
* Please note, you can only receive CRF Housing Assistance from Pasco County one time.
Please continue to monitor MyPasco.net for updates, as more Pasco County assistance will be available in the coming months.
---
Reminder: Aetna – Resources for Living
As a Saint Leo employee, you and your immediate family members have access to several emotional, behavioral, and daily life assistance resources via Aetna, at no cost! Aetna, our Brand Partner with ICUBA, administers our Employee Assistance program. Login below or check out the Benefits Wise Guide, HERE, for more info.
Online: www.resourcesforliving.com
Username: ICUBA
Password: 8773985816
---
For questions on any Saint Leo benefits and wellness initiatives, please contact Wellness.benefits@saintleo.edu.