Human Resources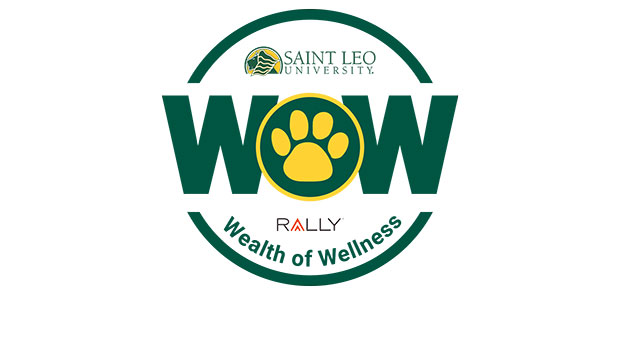 Published on August 6th, 2020 | by University Communications
0
Updated: A Wealth of Wellness — August 2020
The Benefits Department presents A Wealth of Wellness for the month of August.
What you need to know about the novel coronavirus: Visit our Saint Leo intranet and read the latest information released by AETNA, Teladoc, and other sources, click here!
Financial wellness webinar: Conquering Student Loan Debt – Click here
Featured webinar: Your Body Language Speaks Volumes – Click here
Monthly Awareness: Immunization – Click here to learn more
Let's Talk: Becoming a Pet Parent – Click here
Infographic/e-Health Video: Family Fun Ideas Click here
Podcast – Think Tank: Why pets are everyone's best friend. Click here to listen to the podcast
---

Rally eligible events have started for the 2020-2021 benefit plan year!
The webinar listed below is worth $10 in onsite Rally event credit only if you respond to the quiz
During August watch the following Resources For Living webinars at www.resourcesforliving.com
Username: ICUBA and Password: 8773985816
Career Networking – Click here to watch this video anytime
Take this quiz to get your Rally credits, CLICK HERE!
Retirement: What does it mean for you? – Click here to watch the webinar anytime
Take this quiz to get your Rally credits, CLICK HERE!
Note: You must view the video and complete the quiz in order to receive $10 in onsite event Rally credit.
ONSITE EVENTS – Rally eligible!
Financial wellness webinar: Conquering Student Loan Debt – Click here
Note: You must attend the full duration of webinar to receive Rally rewards. There is no quiz requirement.
Mark your calendar: October 15

Flu Shots – More information to come!
Flu shots will be given from 11 a.m. to 2 p.m., Thursday, October 15, in the Glen E. Greenfelder and Janet L. Denlinger Boardrooms in the Student Community Center.
AIG Retirement Plan Meetings If you would like to discuss your AIG/VALIC retirement plan from Saint Leo University or former employers, simply click on the link below to schedule a phone appointment with your VALIC/AIG Retirement Services financial advisor. Schedule a phone appointment with your VALIC/AIG Retirement Services Financial Advisor >>
---
Check out the July/August edition of ICUBA's Newsletter: Click here!
---
Steps to Fair Conflict Resolution
Conflicts seldom go away by themselves. They require open, clear, deliberate communication if they are going to be resolved. Often, a conflict evaporates when the different points of view get a chance to be heard in a calm setting. Those who are experienced in conflict resolution have learned to follow these steps.
Arrange a meeting with all parties involved in the conflict.
Acknowledge that there's a conflict. Make sure all parties verbally agree on the nature of the conflict.
When discussing your role in the conflict, use "I" statements. Encourage others to do the same. "I feel ___ when ___." This allows the participants to take responsibility for themselves instead of placing the blame on others.
Ask direct questions about the situation.
Confirm your understanding. For example, "If I understand correctly, this is how you see the situation…"
Allow all parties involved to discuss what outcome they hope to achieve.
Whether you come to an agreement, agree to work toward a resolution that benefits everyone. Schedule a follow-up meeting to determine if the solution is working, or if some tweaking may be necessary
Is there a conflict in one of your personal or working relationships that need to be resolved? Why not share these steps with the other person and see if you can agree to use them to achieve a resolution? Afterward, write a few notes about what worked well and what would make the process work better for the future.
Online: www.resourcesforliving.com
Username: ICUBA
Password: 8773985816
For questions, please contact Wellness.benefits@saintleo.edu