Human Resources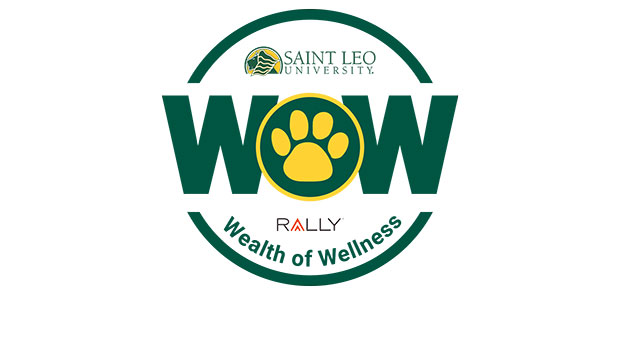 Published on July 19th, 2020 | by University Communications
0
A Wealth of Wellness — July 2020
The Benefits Department presents A Wealth of Wellness for the month of July.
What you need to know about the new coronavirus: Visit our Saint Leo intranet and read the latest information released by AETNA, Teladoc, and other sources, click here!
---

Rally eligible events have started for the 2020-2021 benefit plan year!
The webinar listed below is worth $10 in onsite Rally event credit only if you respond to the quiz
During July watch the following Resources For Living webinars at www.resourcesforliving.com
Username: ICUBA and Password: 8773985816
Talking to your partner about money– Click here to watch this video anytime
Take this quiz to get your Rally credits, CLICK HERE!
Pet parenting 101 – Tuesday, July 28 at 3 p.m. ET / noon PT – Click here to Register
Take this quiz to get your Rally credits, CLICK HERE!
Note: You must view the video and complete the quiz in order to receive $10 in onsite event Rally credit.
---
AIG Retirement Plan Meetings If you would like to discuss your AIG/VALIC retirement plan from Saint Leo University or former employers, simply click on the link below to schedule a phone appointment with your VALIC/AIG Retirement Services financial advisor. Schedule a phone appointment with your VALIC/AIG Retirement Services Financial Advisor >>
---
Changes in the Formulary for OptumRX Starting July 1, 2020, OptumRx will implement a new plan formulary. This change will affect more than 600 members. If you are affected, we (ICUBACares) are trying to contact you now to provide useful information regarding available alternative treatment options. Have you received a letter from OptumRx regarding changes to the formulary impacting one or more of your current prescriptions? If so, we urge you to call ICUBAcares at (877) 286-3967 for assistance. What else can ICUBAcares help with? Our ICUBAcares Pharmacist Team is ready to:
Serve as a liaison between your doctor, the pharmacy and the insurance company. We're taking the burden off you, the patient!
Answer questions regarding medications you are currently taking or considering and providing useful information on side effects, drug interactions, contraindications, cost, and much more.
Discuss preferred and non-preferred formulary tier options to save you, the patient, money.
Provide assistance with prior authorization approval to ensure patients get access to the medications they need in a timely manner.
Find more information in the June edition of the ICUBA Newsletter in Community News, click here.
---
AIG Retirement Services Offers a Student Loan Forgiveness Program
As part of AIG Retirement Services' Student Debt Solution, you have access to an online student loan evaluation tool to determine your eligibility for federal repayment and forgiveness programs.
It's brought to you through AIG's engagement with Savi, a social impact technology firm that helps student loan borrowers optimize their student loan repayments to help save time and money.
The average Savi user has $1,703 in reduced annual payments and $30,000 in projected forgiveness.
Additionally, you can access Savi's analysis of the new student loan rules in the CARES Act as well as other actions being taken by the government as it responds to these unprecedented times. For more information, CLICK HERE!
---
Shop Online FSA eligible items with your ICUBA MasterCard
Did you know there is an ecommerce site exclusively stocked with Flexible Spending Account (FSA)-eligible products and services? In addition to more than 4,000 FSA eligible products the site offers a national provider database of FSA-eligible services and an FSA Learning Center. You can find all kind of popular items such as: sunscreen, pain relief medications, thermometers, and different personal care items. Click here to shop now!
---
Check Out the Virtual YMCA
YMCA has a virtual programming to provide a wide variety of options for their members and community partners to enjoy in order to maintain a healthy lifestyle. These include:
Group exercise classes from your favorite YMCA instructors both near and far.
Virtual programs like Lunch & Learns, weight loss classes, blood pressure self-monitoring, youth activities, and more.
Workouts and activities posted on Facebook for everyone to enjoy.
CLICK HERE to check out your YMCA.
In addition to the virtual programming, the YMCA also offers a variety of classes, wellness services, and summer programs geared for every member of your family in a safe and fully sanitized environment.
If you would like more information about access to the above, please email rnilsson@suncoastymca.org.
---
Check out the July/August edition of ICUBA's Newsletter: Click here!
---
Resources for Living can help you to find child care
Are you looking for a child care provider? Do you need summer or full-time care? The search tool below can help you select the type of care you need! You can check the options that fit your care needs and limit the search by city, state, address, ZIP code, and radius. Its's not easy searching for child care providers but this tool can help! Click here!
Keep in mind, you have endless resources for behavioral, mental, physical, and daily living health through the Employee Assistance Program (EAP). This is a free benefit provided to you by Saint Leo University through Aetna's Resources for Living. For access to services, simply call (877) 398-5816 and select Option 1 for EAP.
Online: www.resourcesforliving.com
Username: ICUBA
Password: 8773985816
For questions, please contact Wellness.benefits@saintleo.edu