News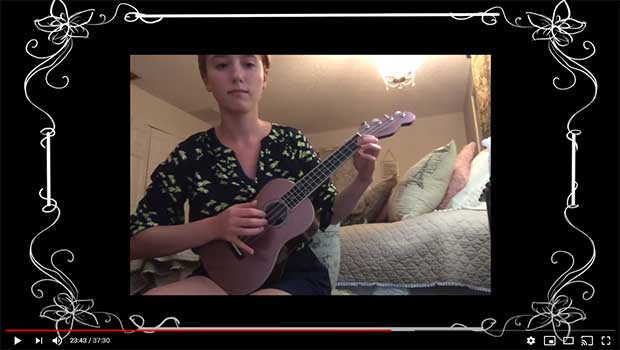 Published on May 6th, 2020 | by University Communications
0
Saint Leo music program presents virtual student recital
In the absence of live music performances this semester, the Saint Leo Music Program presents its "Virtual Music Student Recital 2020." The students showcase their skills in applied voice, guitar, and ukulele. Also featured are two original compositions composed by Music Theory II students.
Enjoy the recital! To view, click here.
2020 Spring Student Recital
Saint Leo University
College of Arts and Sciences
Department of Language Studies and the Arts
"Ave Maria" by Franz Schubert – Anthony Marchitto, tenor
"Blue Bossa" by Kenny Dorham – Xavier Davis, guitar
"So in Love" by Cole Porter – Kylie Hamacher, soprano
"Worried Man Blue" – Danielle Oshon, guitar
"Don't Cry for Me Argentina" from Evita, by Andrew Lloyd Webber – Ashley Butler, mezzo-soprano
"Au Clair De La Luna" – Malik Fuller, guitar
"Someone to Watch Over Me" George Gershwin – Steven Santora, tenor
"Steady Groove" – Chrisalyn Junker, guitar
"The Trees on the Mountain" from Susannah, by Carlisle Floyd – Sophia Pope, soprano
"Andante & Andantino" – Alexandra K. Battoe, ukelele
"Fly Me to the Moon" by Bart Howard – Dante Somoano, tenor
"Old Devil Moon" from Finian's Rainbow, by Harburg & Lane – Xavier Davis, baritone
"I Can't Get Started with You" from Zeigfeld Follies, by Gershwin & Duke – Julianna Turell, mezzo-soprano
"Nobody Knows You when You're Down and Out" by Jimmie Cox – Alec'a Ash, mezzo-soprano
"Sing Over Me" by Alec'a Ash
"Final Composition" by Leslie Fragoso
For more information, contact Cynthia Selph at Cynthia.selph@saintleo.edu.
The views expressed during this event are those of the speaker/presenter and do not necessarily represent the views of the university.