Technology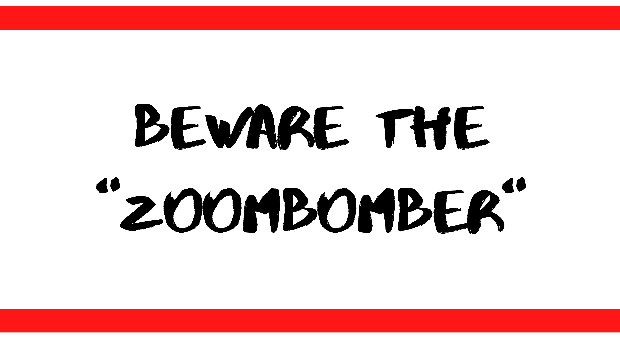 Published on April 3rd, 2020 | by University Communications
0
Zoom Security Bulletin: Beware the Zoombombers!
With the recent surge in the use of video conferencing tools such as Zoom, there have been reported incidents of other businesses and schools being Zoombombed. See the recent article from Inside Higher Ed, "Zoombombing Attacks Disrupt Classes."
What is "Zoombombing"?
This term references an uninvited guest or participant joining your virtual meeting and causing significant disruptions such as sharing inappropriate content. Even though Saint Leo has enabled advanced security settings in Zoom, we must all do our part by staying well informed of best practices to keep your meetings secure.
Zoom has many personal settings and configurations to help with your meeting privacy and security. These include meeting encryption, password protection, waiting rooms, meeting lockouts, screen sharing controls and participant removal to name a few. These controls can be found in the "Settings" section within your personal Zoom portal.
Best Practices and Tips:
Maintain control of your screen.You can determine who and when someone can share content in your meetings by following these tips. We recommend that you keep the sharing setting locked, so only the host can share content, and the host must give permission in a meeting for a participant to share content.
Restrict access to your meeting. Always password protect your meetings, and do not share your meeting link or meeting password on any social media platforms. Here are some great suggestions for managing your participants in this blog from Zoom.
Create a waiting room. Have participants enter your meeting through a waiting room.
Once in the waiting room, the host accepts who can come into the session. Only allow known persons to join your meeting and then lock the session so no one else can join.
Do not use your Personal Meeting ID (PMI). When creating a meeting always use the "random meeting ID" option.
Change settings on a per meeting basis rather than for ALL meetings. When scheduling a meeting, you can configure individual settings for each meeting invite. When you make changes in your Zoom "settings" tab within your profile, it applies to all meetings.
Given that everyone's meeting purpose and style is different, settings that work for some may not work for others. Just be mindful of the possible consequences of setting changes.
Report Incidents
If you are the victim of Zoombombing, please notify TI3 immediately so that we can investigate the incident.
Please provide information about your meeting, including:
The meeting ID;
Meeting time and date;
Number of participants;
Details about the incident (all information will be helpful; and,
The meeting recording, if recorded.
To report an incident or to get answers to Zoom security questions, please create a ticket at helpdesk.saintleo.edu or call (352) 588-8888.
Additional Resources
Again, to report an incident or to get answers to Zoom security questions, please create a ticket at helpdesk.saintleo.edu or call (352) 588-8888.