HR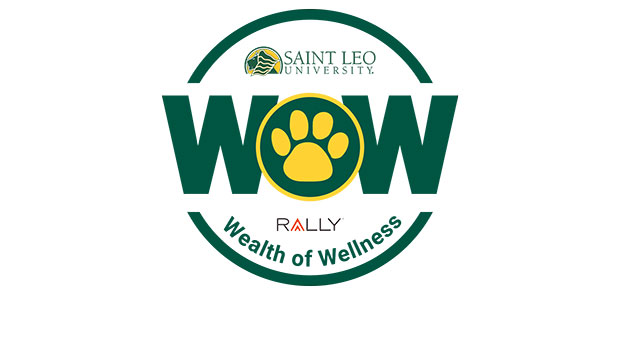 Published on March 1st, 2020 | by University Communications
0
The March issue of A Wealth of Wellness is here
The Benefits Department presents "A Wealth of Wellness" for the month of March.
---
Featured Webinar: "Intuition: Hearing and trusting your inner voice," from 3 to 4 p.m. ET (noon to 1 p.m. PT), Thursday, March 19. Register >>
---
Monthly Awareness: March is Self Harm Awareness Month. Learn more >>
---
Let's Talk: Blended Families View the video>>
---
March Infographic and e-Health Video: Learn about setting SMART goals >>
---
"Think Tank" Podcast: "Perfection: Not all it's cracked up to be" Listen now >>
---

Have you earned Rally dollars though your ICUBA Rally account this benefit plan year (April 1, 2019, to March 31, 2020)? These dollars expire on March 31, so be sure to cash them in! Learn more >>
RALLY Sweepstakes winners at Saint Leo University
Congratulations to the below employees that were rally sweepstakes winners
Melissa Crist, accounts payable coordinator at University Campus, won a travel tumbler.
Amantha Terwilliger, student advisor at Channelside, won a set of Bluetooth headphones.
---
Aetna Article: Searching for a New Home
Unlike other big investments, a new home is an investment you are going to live in every day. Ideally, you'll be searching for a house to move into because you want to. You'll be enthusiastic and clear-headed, in prime spirits for undertaking the search, finding the best deal and taking pleasure in your new home. On the other hand, you may be looking for a house in response to big life changes, and that make a home buying more challenging and less enjoyable. Regardless the reason you're seeking a new home, you'll be able to avoid stress and confusion best if you already know something about the process of getting a new home.
The following information is intended to introduce you to some of the basics of locating a home that is right for you.
Determine whether you want to rent or buy and know your reasons for making your choice for either.
Start in a home that is well within your financial means. You can always upgrade in the future as your income increases.
Familiarize yourself with the area you want to live in. Ask questions about the school district, tax rates, crime rates, trash days, neighborhood policies, etc.
Know your credit report before applying for a loan.
Know what you can afford on a monthly basis.
Familiarize yourself with insurance costs and coverage.
Work with a mortgage company to help you pre-qualify for a loan. A mortgage company can help you manage your current financial situation and clean up any bad history that may cause your mortgage application to be denied.
Know your mortgage company's policy for foreclosure.
Get a professional inspection before buying a home.
For more tips, log into www.resourcesforliving.com and enter username "ICUBA" and password "8773985816".
---
Berkshire Hathaway Home Services Saint Leo Appreciation Program
Take advantage of a nationwide benefit program with no-cost to employees
All Saint Leo employees and immediate family members are eligible to receive cash savings on the purchase and/or sale of homes. All employees are eligible to receive a cash rebate on a home sale and/or purchase when participating in the program with Berkshire Hathaway. Includes home selling and buying assistance, financing options and savings/discounts on household goods move management.
For more information visit our intranet.
---
What you need to know about the new coronavirus
Visit our SLU intranet and read the latest information released by AETNA. Click here >>
---
For more wellness information, contact Resources for Living
Keep in mind, you have generous resources for behavioral, mental, physical, and daily living health through the Employee Assistance Program (EAP). This is a free benefit provided to you by Saint Leo University through Aetna's Resources for Living. To access EAP services, call (877) 398-5816 and select Option 1 for EAP or visit www.resourcesforliving.com and enter username "ICUBA" and password "8773985816". For questions, please contact wellness.benefits@saintleo.edu.