News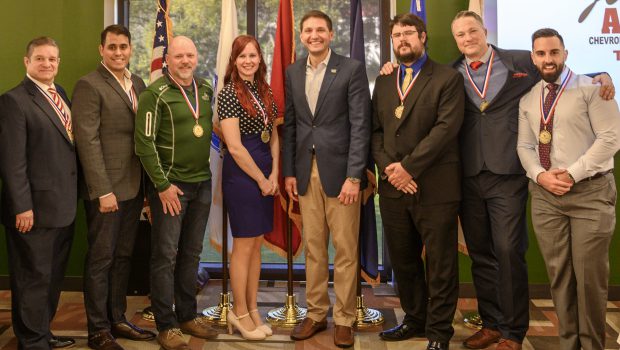 Published on February 28th, 2020 | by University Communications
0
Saint Leo welcomes Empowering Pasco's Veterans, hosts breakfast
Florida is home to 1.5 million veterans. So it was fitting that Saint Leo University hosted the Empowering Pasco's Veterans breakfast on Friday, February 28. The university has long been committed to educating veterans, and Saint Leo serves close to 5,000 student-veterans and military-affiliated students, said Dr. Jen Shaw, vice president of Student Affairs, in her welcome.
More than 50 veterans, as well as many Pasco County leaders and businesspeople, attended the breakfast, held in the university's Glen E. Greenfelder and Janet L. Denlinger Boardrooms.
Pasco County's commitment to veterans is unique, said Danny Burgess, executive director of the Florida Department of Veterans' Affairs, especially in regard to housing. Empowering Pasco's Veterans is one of the nonprofit organizations in the county that focuses on assisting veterans with homeownership needs such as cleaning up the property of those who are facing fines because of land and building code violations. The organization also helps provide transportation for homeless veterans so they may stay with a relative or find shelter.
"We want veterans here in Florida," Burgess said. Paraphrasing a friend, he said, "We need to stop looking at veterans as a responsibility and look at them as an asset."
Burgess and Colonel Gary Clark of the Florida Veterans Foundation presented each veteran in attendance with a medal after Empowering Pasco's Veterans President Kelly Miller announced each veteran's name and military information. Honored veterans included Luke McClees, director of Saint Leo University's Office of Military Affairs and Services; faculty member and alumnus Frank Hernandez; alumni Brian Anderson, Curtis Mavor, and Gabriel Papadopoulos; alumnus, staff member, and current student Xavier Shipman; and student-veterans Stephen Koehn; Brianna Holman; Osvaldo Vargas; and John Panoulias.