News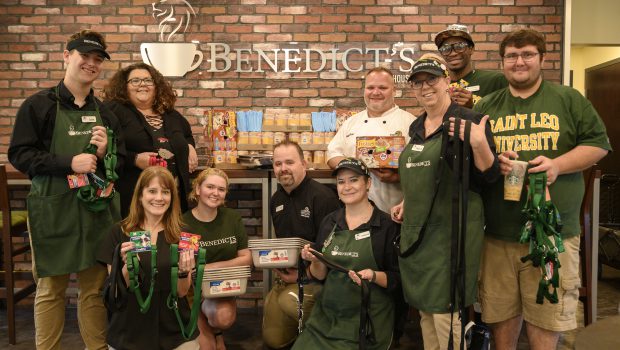 Published on February 28th, 2020 | by University Communications
0
Benedict's tips help Paws of Love help area animal shelters
Saint Leo helps its furry friends, and now patrons of Benedict's Coffeehouse and the nonprofit Paws of Love organization are teaming to help area animal rescues and shelters.
All tips placed in the jars at the university's latest addition to campus, Benedict's, are donated to Paws of Love. In turn, Paws of Love is purchasing items to donate to shelters. Although Benedict's Coffeehouse is a We Proudly Serve Starbucks™ venue, it is operated by Dining Services.
Since its opening in December (the grand opening was January 13, 2020), $300 was donated. The Paws of Love organization purchases 26 harnesses, 10 leashes, 10 litterboxes; six cases of Pedigree dog food; dog training pads; and 24 cases of Friskies cat food. In addition, The Lions' Pride Media Group donated old issues of the newspaper. The items then were distributed on February 20 and February 21 to the Pasco County Animal Services shelter in Land O' Lakes, FL, and the Humane Society of Tampa Bay.
To find out more about Paws of Love, email Heidi.dambrosio02@saintleo.edu. To learn more about Benedict's Coffeehouse, go to https://www.saintleo.edu/benedicts-coffeehouse.